Create A Unique Water Play Experience with a High-Pressure Misting System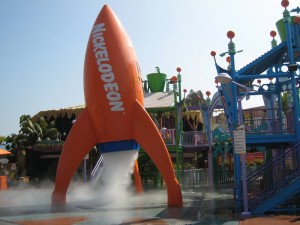 With Spring in full swing, that can only mean one thing: Summer is right around the corner. As you prepare for the incoming heat, you may be looking for new ways to create a fun play area for families and kids to enjoy. Using a high-pressure misting system to create fog effects in water play features is a cool way to accomplish this!
Amusement parks, water parks and large outdoor family fun zones are beginning to adapt their water play features to incorporate misting systems. You may be wondering why misting systems are preferred over other water features. It's because these fog effects in water play features create a cool environment that doesn't leave the whole family soaking wet.

High-pressure misting systems, like the ones designed by Koolfog, are used to enhance the surrounding area with a blanket of fog (or mist) that instantly cools but doesn't wet anyone interacting with the area. That's because the water droplets coming out of the system are so small that they evaporate into the air before soaking into the skin.
Where Can Fog Effects in Water Play Features be Installed?
High-pressure misting systems that create fog effects for water play features can be installed in a variety of areas throughout an amusement park or large outdoor area. Koolfog has designed and installed our high-pressure misting systems in:
Water Parks
Family Fun Zones
Aquariums
Public Parks
Adding fog to thematically enhance water play elements and use fog as a dry feature is a creative alternative to a classic spray pad. Overall, fog adds an entirely different element and feeling to any water play area to keep both parents and kids cool throughout those hot summer days. What could be better than a water play feature that can supply children with hours of energizing entertainment and also keeps parents cool?
If you're a designer or professional interested in taking the next step to creating a unique water play environment, then Koolfog is the company for you. We work with designers from start to finish to customize a system that is perfect for the exact environment you're designing. Schedule a lunch and learn with us today to find out more!

Founder and President
at
Koolfog
Bryan has been working on the forefront of technology for his entire professional career. Slightly obsessed with strategy and development, his drive and focus catalyzes the best ideas into reality. With a constant eye on technology development while advancing thoughtful business models that deliver, Bryan offers exceptionally effective and efficient cooling technologies that provide enhanced comfort and enjoyment for people, plants and animals.

Latest posts by Bryan Roe (see all)