Sanitation. One of the most critical aspects of maintaining a healthy cultivation space.
| | |
| --- | --- |
|  Challenge | Sterilizing cannabis cultivation spaces. |
| Solution | Implement a Koolfog cannabis fogging system. |
| Benefit | Efficient and safe cannabis grow room sanitation. |
Why Is Cannabis Grow Room Sanitation Important?
When it comes to maintaining the ideal growing environment, an eco-friendly cannabis grow room sanitation plan is essential. Certain microbial life forms pose various risks to plant and human health. The elimination of mold and mildew in particular, is essential, as spores spread very quickly from plant to plant, dispersing and settling on whatever surfaces they can, potentially destroying a crop. Many cultivators continuously struggle with microbiological contaminants such as white powdery mildew, never quite nailing ideal sanitation procedures.
Koolfog Cannabis Fogging Systems Easily Deliver Essential Oils & Disinfection Agents
From the grow room to common rooms and hallways used by employees, sterilization can be a precise and automated process. Operating at pressures of 1000 psi+ Koolfog produces a dense fog with billions of micron-sized water droplets that can completely penetrate a flowering canopy, or cover passageways and employee common areas, reaching into the furthest crevices. When combined with effective sanitation agents such as commonly used hydrogen peroxide-based additives or various essential oil blends, mold and mildew elimination can be achieved. The high-pressure fog system for grow room sanitation can be specifically designed to meet the needs of small or single compartments, screen houses and shade houses, or larger-scale greenhouse and indoor operations with multiple zones. Automated programs that integrate with existing facility operations management systems, allow growers to disinfect different areas with the output fog at constant pressure levels, pulse output, or output using variable pressure control and staging.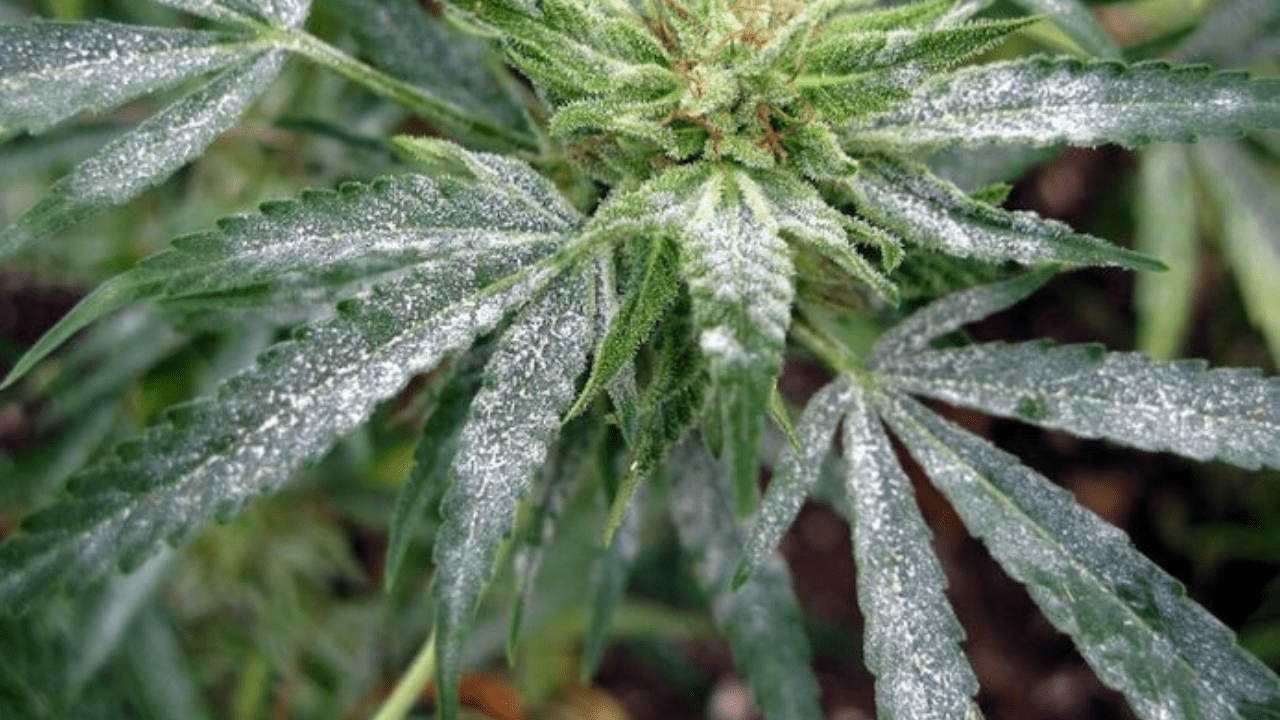 Maintaining a Clean Grow Room
Proper grow room sanitization should not be understated. The efficient and safe bio-control of cannabis cultivation facilities has a significant impact on the business of harvesting healthy plants. Implementing a Koolfog cannabis fogging system can dramatically reduce grow room contamination and provide long-term success in producing robust yields.
In 2010, Egypts' Kafrelsheikh University Department of Agriculture and Botany published their findings on the efficacy of some essential oils in controlling powdery mildew. The study described how "disease incidence and severity of powdery mildew on Zinnia elegans, L was significantly decreased by spraying some essential oils: ginger, cinnamon and clove each at 0.1 ppm, four times beginning from June 15th with 7 days interval. The results showed that these three treatments significantly surpassed others in most cases and the essential oils treatments gave best or similar results with those obtained when the fungicide Kemazein 75% was used. These findings could be explained according to previous authors who stated that essential oils have important ecological functions. One of these functions is to protect the plant against infection by pathogens (Taiz and Zeiger, 1991 and El-Kazzaz et al., 2003). The mycelia growth of Aspergillus flavus Link was completely inhibited and the hyphal diameter decreased and hyphal wall appeared as precipitates and disappeared in some regions when oil of Cymbopogon citratus L. was used. In addition, they found that oil treatment caused plasma membrane disruption and mitochondrial structure disorganization (Helal et al., 2007)). Scarito et al. (2007) studied the effect of essential oils of oregano and clove at 0.125 and 0.5 ml/L concentrations on roses. They found that, an inhibitory activity of both essential oils at higher concentration without toxicity phenomena were found at either concentration of the essential oils treatments. Other investigators reported that the essential oils contained specific components, antifungal compounds and fungitoxic agents that can inhibit the growth of certain microorganisms (Farag et al., 1989; Zambonelli, 1996; El-Shoraky, 1998; Chao et al., 2000; El-Shazly, 2000; Abd El-Kader et al., 2003; Voda et al., 2003; Moleyar and Narasimham, 2004; Sheng et al., 2005 and Krishna Kishore and Pande, 2007). Results also showed that spraying zinnia plants with these essential oils caused higher activity of peroxidase and polyphenol oxidase enzymes than control. The highest activity of enzymes was correlated with decreases of infection with pathogen of powdery mildew disease. This means that spraying plants with essential oils gave a defense to plants from invasion with pathogen."