Crowds inevitably form at special events and rising temperatures can become a liability in no time, manifesting as heat exhaustion or heat stress. During the warmer months of the year, concert promoters, sports facilities, state or local fairs and other special events are turning towards misting systems and misting fans to keep guests and staff members cool and safe.
| | |
| --- | --- |
|  Challenge |  Protect guests and event staff members from heat exhaustion and/or heat stress in open environments during the summer months. |
|  Solution |  Using well placed misting cooling zones that employ standard misting systems or misting fans, events managers are able to offer relief from the heat to guests and employees alike. |
|  Benefits |  Not only do they limit the liability posed by heat stress, but misting zones are often used to generate co-sponsorship income with major corporate brands. |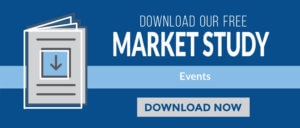 Humans are social by nature. As large events like music festivals, conferences, and other gatherings become more popular, event planning is becoming a more profitable business. Outdoor events, in particular, are on the rise due to the convenience of not booking an indoor venue and the ability to host more people at once. However, when large groups of people gather for a captivating event at an outdoor venue, health risks can arise, especially in the summer months. People often forget to monitor their hydration levels, and when the sun is blazing, there is real potential for heat stress and heat stroke.
However, as exciting as creating and designing these outdoor events can be, there are some serious liability concerns that should be addressed, especially if your venue is located in an area that is very hot, such as the desert. Heat stress can quickly transition through the various stages of risk to extreme danger. Not providing the necessary cooling measures for people who are distracted by the day's activities can be extremely serious.
Encouraging sponsorship for your events can attract brands that want to target their niche market by building positive customer, consumer, and VIP relations. Along with the opportunity to increase brand awareness, potential sponsors can offer misting cooling zones for their current or prospective customers, showing that they truly value the health and safety of customers within their market.
Challenges in the Events Industry Benefits of Misting at Event Venues
The nature of any event is excitement and engagement. With body heat and environmental heat increasing in these settings, the chance of heat stress or exhaustion is a reality that event designers must consider. Since heat stress and exhaustion can quickly and detrimentally affect your guests, misting fans are necessary protective measures for the safety of your guests, your staff and the longevity of your event.