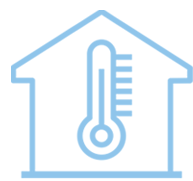 Temperature is a vitally important element for creating the perfect greenhouse microclimate because it encourages strong, healthy and resilient plant growth. Greenhouse foggers (also known as greenhouse misters, misting systems or fogging systems) offer precise temperature conditions that foster a plant's ability to photosynthesize and flourish.

Misting systems work by transforming water droplets into vapor that can be used to cool greenhouse environments. In this high-pressure system, each water particle is evaporated into a mist that emits from specialty nozzles distributed throughout the greenhouse.
The greenhouse fogger is able to remove the excess heat buildup in the air and replace it with water. Cooler growing spaces, in turn, help growers minimize the damaging effects of heat stress and drought. The result is healthier plants that attract fewer pests and produce higher yields.
Koolfog's greenhouse cooling systems help growers address many of the microclimate variables that need to be considered when implementing environmental controls. These misting systems create the optimal indoor temperature through an evaporative cooling process.
Each high-pressure system's components are carefully chosen for superior quality, and the end result is a reliable solution that consistently performs as expected. This is important because juggling the many variables within a controlled greenhouse environment can be a daunting task. By integrating Koolfog misting systems into the greenhouse environment, growers can control even large-scale facilities in a cost-effective way. Keep reading to learn more about how greenhouse foggers can be used for temperature control.
Why is temperature a critical part of managing plant growth in the greenhouse?
Maintaining the optimal greenhouse temperature is extremely important because heat can have devastating impacts on photosynthesis and, therefore, growth. Higher temperatures mean slower growth rates, as the enzymes involved in photosynthesis aren't able to work properly in hot conditions.
Heat also causes water to evaporate from plant's aerial parts and soil more quickly, causing plants to struggle in the uptake of nutrients, leading to nutrient burn, and further damaging the plant's roots and foliage.
Hotter temperatures drive the increase of vapor pressure deficit (VPD), decreasing the rate at which the plant's pores (stomata) take in CO2 and expel water vapor –two factors that compromise growth. Heat also attracts pests and diseases. Both spider mites and white powdery mildew, for example, thrive in hot conditions.
How can greenhouse foggers help with temperature control?
Koolfog high-pressure greenhouse foggers work to cool temperatures, creating a consistent and ideal growing microclimate. These optimum growing conditions are achieved through the following process:
Operating at pressures of 1000 psi+, Koolfog misting systems use micron-sized water droplets that, while evaporating and turning to vapor, cool the surrounding area to precise levels. A mister system can be designed for screen houses, shade houses, traditional gutter-connect greenhouses or indoor operations with multiple zones.
Koolfog fog control systems allow growers to deliver fog at constant pressure levels, pulse output or output using variable pressure control and staging. This level of coverage provides for total microclimate control to maximize growth.
Cooler conditions can decrease plant stress, which will promote a seamless photosynthesis process and increased nutrient uptake. This will also help to prevent pests and diseases. Koolfog greenhouse foggers work to maintain a suitable VPD value by lowering temperatures, raising humidity and reducing plant heat stress.
Koolfog high-pressure misting systems can also come equipped with independent controls, or integrated to existing greenhouse controls, that allows the user to set ideal temperature and humidity levels in the greenhouse. Much like an air conditioning unit, the fogger can be pre-programed to the perfect microclimate settings. The system can be left unattended to regulate the optimal crop-growing environment.