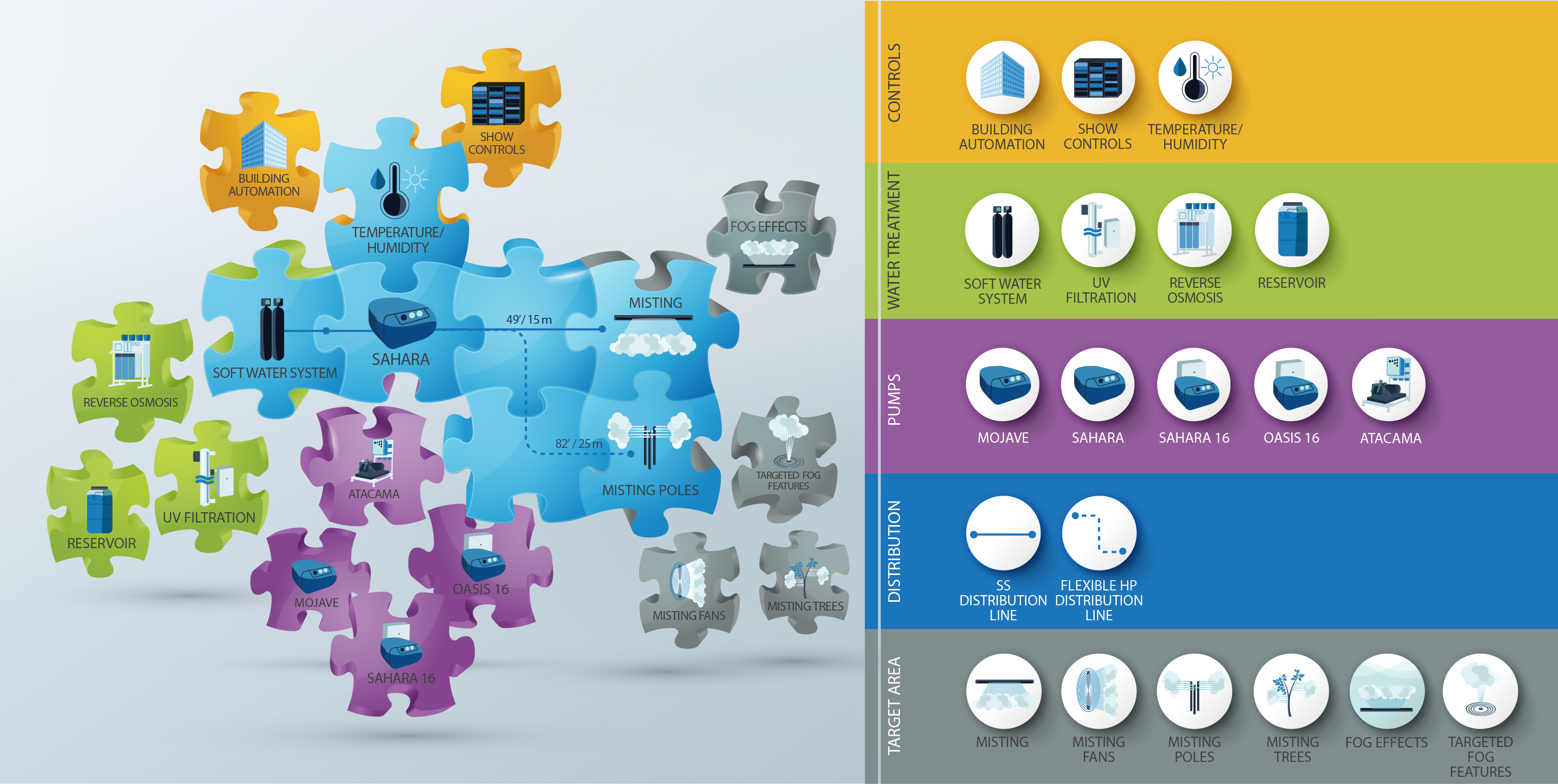 Where are you going to put everything? Line, pump, control system. How will they connect? And in what order?Start Here. Why? Because fog design is affected by each single part of the over-all system. Much like a puzzle comes together one piece at a time; our systems are designed one section at time. Understanding how this effects that will help you reach your end goal.
Target Area:
Like all great pursuits, we begin with the end in mind. The most important questions to ask yourself are "What are we trying to do?" and "How are we going to do it?". There are often multiple ways to accomplish the same thing and each comes with its own advantages and disadvantages. After you settle in on the specific delivery method this defines the nozzle type and count.
Pump:
Next we determine what what pump is appropriate for your application. Pump selection is, in part, determined by the nozzle type and count but also factors such as zoning and control. American designed and manufactured, each Koolfog pump is designed to fit a size and range of applications. Not to be confused with competing systems with similar base specifications, It's whats on the inside that matters.
Water Treatment:
All Koolfog systems are standard equipped with sediment filters to protect the system components and nozzles from the potential harmful effects of debris. Additional water treatment may be recommended or necessary to extend nozzle integrity and endurance or to offer a means to purify.
Controls:
Need a little more control? Our systems are designed to connect to existing control systems such as building automation systems, environmental, show or fountain controls. After all, timing is everything. But also zoning, temperature & humidity, volume, pressure and feedback.
Distribution Line:
With the end in mind, how are we going to get there? Distribution line carries pressurized water from the pump to the target area where all of the "magic" takes place. The routing from the Pump to the Target Area(s) often determine whether flexible distribution line or rigid stainless steel is used.