Humidity. One of the most crucial elements in creating the perfect cannabis microclimate.

CHALLENGE
Optimizing cannabis humidification levels.

SOLUTION
Implement a Koolfog cannabis fogging system to create a consistent and ideal cannabis growing environment.

BENEFIT
Cannabis plants flourish.
Why are optimum cannabis humidification levels so important?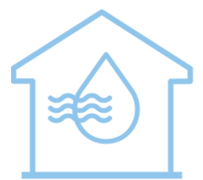 Plants breathe in carbon dioxide (CO2) from the atmosphere by opening their pores (stomata). When the plant's stomata opens, a chain response begins. Water is drawn up from their roots, moving throughout the entire plant before evaporating back into the microclimate. This process of plant transpiration functions in a similar manner to the form of perspiration in humans. Just as in humans, pores of the plant's leaves (stomata) open up and allow water to escape. Stomata function has a lot to do with humidity levels. When humidity is too low, plants close their stomata, slowing the photosynthetic process.
The reduction of CO2 leads to stress, slower growth rates, and compromised yield. Under severely low cannabis humidification levels, the plant will wilt and die because even its protective mechanisms cannot offset the stress imposed by the lack of atmospheric water.
Humidity control also plays a crucial part in managing VPD (vapor pressure deficit). VPD is the concept that measures the variance in pressure between the humidity inside and outside of a leaf. Proper VPD management leads to thriving grow rooms and fuller yields.
Interested in These Applications?
One of the most important things in the early stages of the cannabis plant life cycle is humidity. If you cannot achieve and maintain optimum VPD, it will seriously affect the plant as well as the quality and quantity of your yield. Growing healthy plants comes down to environmental controls and controlling VPD through proper humidity as much as heating and cooling. I highly recommend Koolfog's system for optimal cannabis cultivation results.
-R. Calderon
Sacramento, California
Koolfog cannabis fogging systems can create consistent and ideal cannabis humidification levels for both indoor and greenhouse microclimates.
Through cannabis fogging, Koolfog induces humidity into cultivation environments, helping to maintain optimum VPD. Koolfog delivers micron-sized water droplets that, while evaporating and turning to vapor, humidify the surrounding area. The cannabis fogging system can be designed for screen houses, shade houses, greenhouses, single compartment cannabis growing spaces, or indoor operations with multiple zones. Programs that integrate with common cannabis facility control systems allow growers to determine the best cannabis humidification levels for their particular seedlings. Cannabis fogging systems deliver fog at constant pressure levels, pulse output, or output using variable pressures and staging, to provide for total control of cannabis microclimates.
Managed Cannabis Humidification Levels Nurture Healthy Plants
Ideal humidification levels allow plants to open their stomata more fully, respire more carbon dioxide, maximize flower growth, and increase yield potential.
Based on peer-reviewed research in the field of indoor/greenhouse produce cultivation, the following relative humidity (RH) conditions would be suitable for indoor/greenhouse cannabis cultivation: Cloning: 70%-75% RH
Vegetation: 65%-70% RH
Flower: 60%-65% RH
Night phase of flower: 55%-60% RH
Source: Mark June-Wells, Ph.D. Botany & Plant Ecology from Rutgers University; Laboratory Director for Connecticut Pharmaceutical Solutions