Adding Fog Effects to your Fountain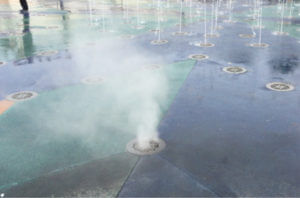 Creating an engaging public environment that centralizes and draws in the attention from crowds of all ages can be a challenge for city and landscape designers. However, fountains are an interesting element that can accomplish just that. Not just any fountain, but a fountain with fog effects can create a communal space that can quickly gain the attention of onlookers. Fountain fog effects draw in crowds, creates a moving environment and transforms the landscape of an area.
Fog Effects vs. Water Jets
Adding some type of effect, whether through the installation of lights, water features or fog effects is necessary to create a fountain that adds to the ambiance of its surroundings. Which combination of water features you choose will ultimately depend on the type of atmosphere you're looking to create. However, there are some benefits to including fountain fog effects as compared to traditional water jets alone.
Fog effects in fountains truly create a unique, wow effect to any fountain design. The captivating free flowing movement of the fog as it escapes, moves and bends in and around the fountain is quite magical. It also creates a natural backdrop for lighting that exceptionally captures and reflects light to create a captivating scene.
Unlike water jets and lights that are just for show or play, fountain fog effects have an added comforting effect that flows through and outside an environment. Through the use of high-pressure fogging systems, the water dispersed by the systems works to cool the surrounding area. Providing residual cooling, acting as an enhancing element for light and the unique overall movement of fog effects can work to transform a fountain like never before.
Installing Fountain Fog Effects
Koolfog's state of the art fog systems dynamically work to enhance the design and the aesthetic appeal of any fountain. Our fog system experts have an in-depth experience with the design and project management process required to effectively design and install these types of systems. With more than 30 years of experience collaborating with designers, landscape professionals and engineers, we can assist with the completion of the project from conception to completion.
Each one of our fog effect systems has been extensively researched and tested to ensure the highest level of quality performance. We also manufacture each one of our high-pressure fog pumps and nozzles. So, we fully understand the intricacies of each system and can adjust accordingly to accommodate all your fountain fog effect desires.

Founder and President
at
Koolfog
Bryan has been working on the forefront of technology for his entire professional career. Slightly obsessed with strategy and development, his drive and focus catalyzes the best ideas into reality. With a constant eye on technology development while advancing thoughtful business models that deliver, Bryan offers exceptionally effective and efficient cooling technologies that provide enhanced comfort and enjoyment for people, plants and animals.

Latest posts by Bryan Roe (see all)