Cost Effective Cooling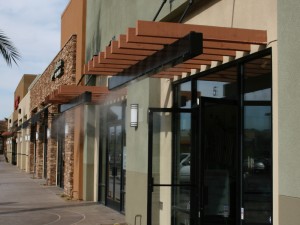 Retail centers are a hub for families and customers looking to spend the day shopping for their favorite clothes and goods. For outdoor retail centers, the summer heat can pose a bit of a challenge when it comes to keeping customers cool. Since, during the summer, indoor shopping malls are usually where people flock to escape the heat and enjoy a cool day inside with air conditioning. The best way to compete with indoor shopping malls and air conditioning is by installing a cost-effective cooling solution, and retail center misting systems are the only answer.
Retail Center Misting Systems
Koolfog's state of the art retail misting systems effectively cool large outdoor spaces and enhance the overall environment of the shopping center. Traditionally, these types of high pressure misting systems are installed all throughout the center to keep out the heat of the summer and create a cool atmosphere. Usually found in food courts, seating areas, and walkways retail misting systems are an easy way to give customers a constant relief from the heat.
However, to keep up with an ever-changing market of competition, retail centers are now taking their misting system plans one step further. Through the planning and integration of fog effects in addition to traditional retail center misting systems. Landscape artists and designers are incorporating Koolfog's unique fog effect systems into planters and fountains to create an experience rather than promote a destination.
The Benefits of Retail Center Misting
More and more, customers are beginning to demand a more individualized and customized shopping experience. For years, large outdoor retail centers have worked to cater to this desire is through the creation of a comfortable environment. Through the installation of retail center misting and fog effects, outdoor malls have been able to create a cool environment that is also aesthetically appealing to shoppers.
These types of misting systems captivate and attract attention. It also shows customers you've thought and care about their comfort and gives them a place to relax while they shop. This will encourage longer shopping times, which ultimately brings more business to the stores within the center. When properly installed, these effects help retail centers to stand out among the crowd and can turn the center into a destination attraction that brings more business to the area. This promotes return visits and increases attendance at all points in the year.
Want to learn more about Koolfog's state of the art retail center misting systems? Contact us today.

Founder and President
at
Koolfog
Bryan has been working on the forefront of technology for his entire professional career. Slightly obsessed with strategy and development, his drive and focus catalyzes the best ideas into reality. With a constant eye on technology development while advancing thoughtful business models that deliver, Bryan offers exceptionally effective and efficient cooling technologies that provide enhanced comfort and enjoyment for people, plants and animals.

Latest posts by Bryan Roe (see all)