Make Your Show Stand Out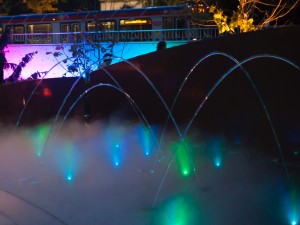 Designing and executing a captivating live audience show is not as easy as it used to be. With attention spans at an all-time low, it's easier than ever for people to either become too distracted or overwhelmed. Finding the best way to balance a visually stimulating environment with a captivating experience for every person in the crowd is the only way the story behind the show can come to life. But the goal is always the same, to make sure the members of every audience remember their experience. So, what's the best way to create a show that stands out from the rest? Implementing fog lighting into the scenery of your show is where the stand out magic happens.
Fog as a Backdrop
Traditionally, shows have implemented the use of fog machines to add a whimsical effect to the stage. However, the chemicals used in this type of machinery can be harmful to both the audience and the environment. Today, there's a more effective and natural alternative to creating this type of environment. Set designers and production crews everywhere are beginning to implement pure water, high pressure fog systems into their shows when they are considering a more permanent venue. With the benefits of a no-chemical approach as well as zero consumables other than water and minimal power, it creates a cost effective approach to fog visual effects.
Using strategically placed fog effects to create a backdrop for lighting is the easiest way to enhance an already well-lit show. Using water, fog lighting captures and reflects light to create a stunning array of colors that effortlessly move throughout the scene. Fog lighting can also be used as a projection screen for lighting and laser displays. Unlike static objects used to refract light, fog lighting is a moving backdrop which creates more depth and is a more unique way to create a visual display.
Installing Fog Lighting
Fog lighting can easily be added to a show or themed setting by one of our fog effect technicians. It can also be set up to complement unique lighting patterns or be timed to release during very specific parts of the production. With a sophisticated control system, production designers have the ability to create immersive settings where fog seamlessly appearance within the show to enhance certain elements created by the lighting. If you're struggling to create an interactive and engaging performance set, fog lighting is the grand finale of the show that you're missing. Because, fog is not just a visual element, but an experience.
Looking to bring your production to life with fog lighting? Contact one of our design experts today to create a fog effects system that is tailored to your stage. All Koolfog systems offer, large coverage areas, state of the art designs, safe materials and effective delivery methods for both indoor and outdoor settings.

Founder and President
at
Koolfog
Bryan has been working on the forefront of technology for his entire professional career. Slightly obsessed with strategy and development, his drive and focus catalyzes the best ideas into reality. With a constant eye on technology development while advancing thoughtful business models that deliver, Bryan offers exceptionally effective and efficient cooling technologies that provide enhanced comfort and enjoyment for people, plants and animals.

Latest posts by Bryan Roe (see all)