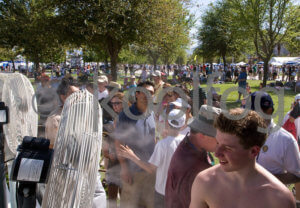 Koolfog Misting Fans gave respite from the desert heat and added to the "cool atmosphere" that defines Coachella Fest. The Coachella Music Festival, held in Indio, California, features various musical genres and is considered one of the premier music and cultural festivals in the United States. The three day event showcases sculptural art, alternative bands, hip hop, and electronic music – drawing industry insiders and icons such as Jay-Z, Muse and Gorillaz in 2010.
Coachella concert promoters placed Koolfog misting fans strategically throughout the event venues to cool crowds, artists, food vendors, and employees working in desert temperatures often exceeding 100 degrees. Misting fans helped to combat a real potential for heat stress and added to the ambiance with a "cool", fun, and unique experience for concert goers.

Founder and President
at
Koolfog
Bryan has been working on the forefront of technology for his entire professional career. Slightly obsessed with strategy and development, his drive and focus catalyzes the best ideas into reality. With a constant eye on technology development while advancing thoughtful business models that deliver, Bryan offers exceptionally effective and efficient cooling technologies that provide enhanced comfort and enjoyment for people, plants and animals.

Latest posts by Bryan Roe (see all)