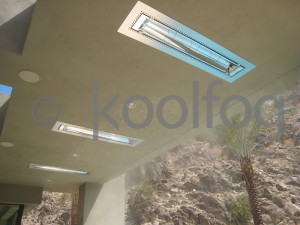 We would like the weather to always be clear and warm. And, when it's not, we tend to be a bit wimpy and want to stay inside. In the restaurant business, if everyone wants to avoid your patio, you've lost space to seat guests and will lose revenue as a result. However, partnering with the Outdoor Heater Store, a Koolfog online division, you can extend the use of that area by installing outdoor heaters for your business.
Many days of the year the sky is clear and the sun is out. So in theory, people still want to enjoy the outdoors, as long as they aren't cold. When you add outdoor heaters for your business, you extend your usable space, increasing your winter, fall and springtime revenue.
You've created a particular ambiance in your restaurant; now ensure that your guests enjoy the same outside. The Outdoor Heater Store provides a range of options. The variety of outdoor heating styles allows you to integrate built-ins or make use of portable heaters that can be moved as necessary for different times or table configurations. We also offer electric and gas options and an array of outdoor heater brands.
We want you to be able to focus on your business, so we focus on providing the best possible outdoor heating choices. We know you'll be using your outdoor heaters for long periods of time and more than just aesthetics is important. At the Outdoor Heater Store, we spend considerable time studying reviews, catalogs and product selection material and intricately test each of our outdoor heater style lines so you don't have to spend time on that. Our commercial grade patio heaters are built for reliability, durability and performance and we work with you to ensure that you have the best heaters for your needs.
Don't let the cooler months become a deficit for your restaurant. Retain your seating capacity and increase revenue with outdoor heaters for your business. The Outdoor Heater Store is part of the Koolfog family of outdoor heating and cooling products and services. We are the leading source for architects, builders, contractors and end-users for outdoor heaters. At OutdoorHeaterStore.com it's easy to find what you need with our variety of products and brands. Customer service and quality are our top concerns. There are no minimum orders and we are here to help with any questions.

Founder and President
at
Koolfog
Bryan has been working on the forefront of technology for his entire professional career. Slightly obsessed with strategy and development, his drive and focus catalyzes the best ideas into reality. With a constant eye on technology development while advancing thoughtful business models that deliver, Bryan offers exceptionally effective and efficient cooling technologies that provide enhanced comfort and enjoyment for people, plants and animals.

Latest posts by Bryan Roe (see all)