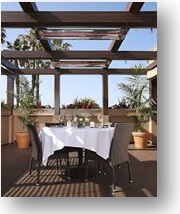 As the seasons change the temperature can go very quickly from way to warm to way too cold. But you may not be ready relinquish your outdoor time just yet, and you don't have to. There are a variety of ways to warm up your patio or deck with both outdoor heaters and some appropriate décor. The Outdoor Heater Store offers a wide range of outdoor heating solutions including in a vast variety of styles, fuel sources, mounting types, portability and more.



Mounted Heaters – can be fitted to walls or ceilings and can be great for private balconies and patios. They don't take up floor space and they use electricity so that you never have to fill a fuel tank. There are many style options, including extra slim heater styles for a less noticeable and contemporary design. For the safest connection, mounted heaters should be installed by a licensed contractor.
Mobile Heaters – also known as portable heaters, this design allows you to easily move your heater wherever you need it, maybe from one side of your yard to another or from dining area to seating area when necessary. There are gas portable heaters and controlled flame heaters. Flame heaters are new favorites offering mesmerizing flame while providing safe and effective heat.
Plug In Heaters – where the convenience of electricity and no installation meet is the plug in heater. In a variety of designs including hanging (similar to a chandelier), under-umbrella, and table top, plug in heaters are the most convenient option for outdoor heating.
Fuel Sources – depending on your patio situation, sometimes you have a choice for fuel use for heaters and sometimes you don't. Some areas only allow propone fuel and some are plumbed for gas. If you don't have good ventilation, you'll have to use electricity. Luckily, The Outdoor Heater Store can provide any of the options you need.
Additional Warmth – An outdoor heater is the best way to heat up your outside space, but a few other touches can make the area more inviting as well. Add some comfy pillows and outdoor blankets that can be easily run through the wash. Decorative candles, lanterns or hanging lights also create a cozy ambiance, creating a place where friends and family want to linger.
You can extend your living space throughout the cooler months by adding outdoor heating to your patio area. The Outdoor Heater Store is part of the Koolfog family of outdoor heating and cooling products and services. We are the leading source for architects, builders, contractors and end-users for outdoor heaters. At OutdoorHeatingStore.com it's easy to find what you need with our variety of products and brands. Customer service and quality are our top concerns. There are no minimum orders and we are here to help with any questions. With new heaters from OutdoorHeaterStore.com, you'll soon be enjoying the warmth of your outdoor space.

Founder and President
at
Koolfog
Bryan has been working on the forefront of technology for his entire professional career. Slightly obsessed with strategy and development, his drive and focus catalyzes the best ideas into reality. With a constant eye on technology development while advancing thoughtful business models that deliver, Bryan offers exceptionally effective and efficient cooling technologies that provide enhanced comfort and enjoyment for people, plants and animals.

Latest posts by Bryan Roe (see all)