Skynny Kitchen is a fresh concept restaurant offering nutritious culinary creations served with 500 or fewer calories. It also cooks up it's tasty morsels in a modern, fast-casual setting to make grabbing good eats on the go a convenience for customers.
Tapping into the need to provide healthy options that fit into people's active lifestyles, Skynny Kitchen has become a popular destination for delicious meals and outstanding menus for breakfast, lunch, dinner, snacks and smoothies.
Recently, Skynny Kitchen's North Holloywood location underwent a remodel adding an outdoor patio dining area. The outdoor patio gives Skynny fans a place to take a moment out of their busy lives to savor the fruits of Skynny cooking.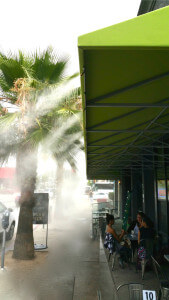 The outdoor ambiance compliments the interior look and feel and is in keeping with the restaurants overall aesthetic.
The décor blends nicely with the Skynny Kitchen leafy green logo.
Sleek industrial style steel tables dot the terrace area increasing the restaurants seating capacity.
An outdoor misting system has been installed to enhance the patio dining experience.
Koolfog designed and implemented a custom outdoor misting system for the restaurant based upon our extensive experience in creating unique solutions for dining spaces. Many restaurants have seen increased business in adding a wonderful outdoor dining space to their facility appealing to those that prefer dining al fresco.
Restaurateurs and architects consult with Koolfog and utilize their mist systems to create visually interesting atmospheres, get clients to notice their venue, and of course, to provide a refreshing escape from high temperatures so that their guests can enjoy their meals in comfort.
For Skynny Kitchen's patio dining area, Koolfog carefully constructed an evaporative cooling system to seamlessly work upon the edge of its awning structure. High-pressure misting nozzles were selected to provide a fine atomized mist across the length of the patio producing a nice screen to define the eateries dining boundaries with the ability to cool customers in inclement weather.
Since the Skynny Kitchen's re-opening, the managers at this location say that more Skynny fans are using the patio and going outside to sit and eat their food. A win for Koolfog and a win for Skynny Kitchen in their efforts to provide healthy eats in a healthy environment.

Founder and President
at
Koolfog
Bryan has been working on the forefront of technology for his entire professional career. Slightly obsessed with strategy and development, his drive and focus catalyzes the best ideas into reality. With a constant eye on technology development while advancing thoughtful business models that deliver, Bryan offers exceptionally effective and efficient cooling technologies that provide enhanced comfort and enjoyment for people, plants and animals.

Latest posts by Bryan Roe (see all)