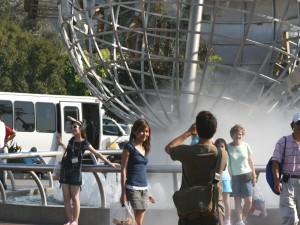 In an increasingly visual dependent society, businesses of all shapes and sizes are adapting to new ways to grab their audience's attention. As a business owner, you may be asking yourself, how can I do this? And, how much is it going to cost?
Visual imagery is one of the more obvious tools in creating an aesthetically appealing environment and it can be done on any type of budget. To compete with this high demand to increase the average customer's attention span and pull them away from the virtual screen, many industries have started implementing the use of fogscapes and theming in their environment.
Koolfog's one-of-a-kind pure water, high-pressure fogscapes are ideal for businesses who are looking to mimic the same artistic fog effects used in fountains, art installations and theme parks alike. Our fogscapes are implemented through a creative design process to create the effects of dense fog, precipitation or soft landscape mists that create a shifting, yet tranquil space within a landscaped environment or architectural design.
For a more dramatic approach, other businesses have turned to our high-pressure misting systems for fog effects within a more theatrical environment. Thematic design works to permeate the imagination by bringing it to reality right before your eyes. Using fog effects for theming is a well-known technique, however the experts at Koolfog use a new age approach to accomplish this type of theming.
Traditionally this has been done with entertainment fog machines, however in today's day and age customers value an eco-friendlier approach that doesn't use chemicals that negatively impact air quality and require consumables. That's why many businesses have turned to our pure water, high-pressure fog effect systems as a safe and cost effective alternative.
To help achieve the best look and feel that each individual business is looking for, Koolfog partners with theming professionals to design, develop and deliver high-pressure fog effects for almost any immersive environment. Through this collaborative process, our fog experts thoughtfully engineer each system to withstand the high demands of an interactive environment and deliver a consistent environment for every audience to enjoy.
With a high-pressure misting system of fog effects system from Koolfog you can bring your landscape to life with ease. If you're ready to start enhancing your business's landscape, then contact us today for more information.

Latest posts by Bryan Roe
(see all)