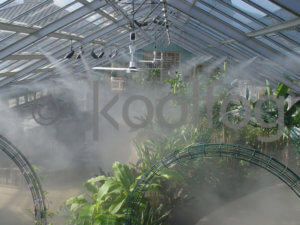 Koolfog misting and humidification systems will be implemented this summer at the Des Moines Botanical and Environmental Center to enhance botanical displays and protect plant life from wavering temperatures. Koolfog systems will allow for consistent humidity year-round within the greenhouses and provide cooling air temperatures during summer months. Both botanical displays and the people that enjoy them will benefit.
The Des Moines Botanical and Environmental Center is one of the most popular cultural attractions in Iowa, presenting education, recreational, and community resources to thousands of visitors. Koolfog misting systems were selected by competitive award because of their outstanding attention to quality and performance.

Founder and President
at
Koolfog
Bryan has been working on the forefront of technology for his entire professional career. Slightly obsessed with strategy and development, his drive and focus catalyzes the best ideas into reality. With a constant eye on technology development while advancing thoughtful business models that deliver, Bryan offers exceptionally effective and efficient cooling technologies that provide enhanced comfort and enjoyment for people, plants and animals.

Latest posts by Bryan Roe (see all)