Misting Systems for Restaurants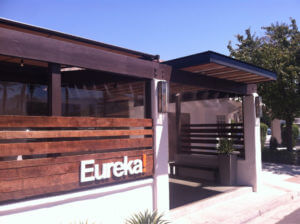 It's no secret that the restaurant business depends heavily on timing, seasonality, and happy customers. The secret, however, is that having control over these three factors and being able to manage them accordingly will maximize table turnover and help you create a thriving business. Unfortunately, many restaurant owners struggle to find a way to manage all three of these factors since two out of the three are usually thought to be out of their control. But misting systems for restaurants changes this completely.
Using a misting system to gain control over the restaurant environment will in turn provide owners with more control over timing and seasonality. Additionally, there are several other benefits that come from having control over your restaurants environment, especially during times of adverse weather conditions.
3 Main Benefits of High-Pressure Misting Systems for Restaurants
1. Increased Revenue
– Being able to maximize the entirety of your restaurant space and continually seat table after table will ultimately increase your revenue. It also removes your dependence from the weather, and gives you more control over your patio environment. Hot summer days will be a breeze for your restaurant with a high-pressure misting system from Koolfog keeping your patrons cool.
2. Ability to Attract More Customers
– On a hot summer day, anyone walking by a restaurant that has a layer of fog cooling it's exterior will be instantly attracted. The inviting mist works to entice passerby's attention and lures them in for a drink or two while they take a break from the smoldering heat. This in turn brings new customers to your business and gives you the opportunity to show them other reasons why they should dine with you again and again.
3. Enhanced comfortability
– A high-pressure misting system can cool the surrounding air by up to 30 degrees and leave patrons feeling cool without leaving them sticky or wet. This helps to create a comfortable environment that customers will want to spend more time in. Additionally, investing in this type of misting system shows your customers that you care about their comfort and have done everything to cater to their needs.
With these benefits in mind, you'll also need a reliable misting system company like Koolfog to design and install your system. Summer is right around the corner, so now is the time to prepare your restaurant for the imminent hot weather that's on its way. Contact us today to begin designing a misting system that's tailored to your restaurant.

Latest posts by Bryan Roe
(see all)