Here at Koolfog, we've spent more than 30 years enhancing and perfecting high-pressure misting systems. In the first few decades, our technology was widely known as "fog" both inside and outside of the industry. It was only within the last decade that the more colloquial terms caught fire and high-pressure fog solutions for commercial and residential applications became more widely known as "misting systems", "misters", "patio misting systems" and "cooling mist systems" (among others). Technically still producing fog by strict definition, we now differentiate our outdoor cooling technologies from others by labeling them with the "misting" term.
With optimum, long-lasting performance as a philosophy, we create systems that can reach an expansive target area cooling the environment by up to 35 degrees Fahrenheit. Our design engineers are firm believers that there's no "one size fits all" solution when it comes to selecting and installing a high-pressure misting system. That's why we have options in size, performance, and control that allow our customers to properly design for any environment.
Commercial Misting Systems
Our state-of-the-art misting systems can be used for a wide range of industries, and we are proud to offer our misting technologies to a variety of businesses. From local to global corporations, theme parks, worldwide hotels, public spaces and everywhere in-between. If there's an area that needs to be cooled, our team is ready to design and support the implementation of the perfect commercial misting system available.
When you invest in a misting system from Koolfog you're also investing in a responsive and knowledgeable company to back it up. We have over 30 years in the industry and have pioneered technologies and developed techniques for thoughtful implementation. When you invest in a Koolfog misting system, you'll also have access to our technical support team and misting resources. We're an email or call away from helping you solve any of your misting needs.
Guest Comfort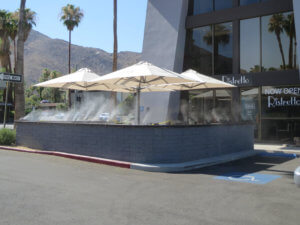 If you are in the business of making customers "comfortable," ensuring their comfort is met is pivotal to your bottom line, to your business, to your lifeblood. Koolfog's misters offer restaurants, resorts & hotels, golf clubs, retail centers, theme parks and water parks an expansive, effective means to control their outdoor settings, allowing more consistency in patronage and happier customers. Employing the efficacy of evaporative cooling, Koolfog's high-pressure misters produce a dry mist that interacts with the energy in the air to lower temperatures up to 35 degrees. Other businesses require more attention directed to employees such as in military or fire-fighting or even with "customers" – for example, students at schools and daycare – where safety is of the highest concern. Koolfog misting systems provide insurance against soaring temperatures and the very real danger of heat stress.
Residential Misting
Say goodbye to DIY misting solutions that are constructed from inferior components and designed with one goal in mind … price. Say hello to a misting system that your family and friends will enjoy for years to come. Our professionally designed patio misting systems are easily adaptable to service residential settings. Rather than invest in a low-pressure misting system that attaches to your hose bib and deteriorates due to sun exposure, you can work with the misting experts at Koolfog to create a system that fits any outdoor living area. We can work with your budget and aesthetic requirements to provide you with misting solutions that balance value and performance without ever sacrificing quality.
Incorporating Misting Systems
Don't make the mistake of thinking all misting systems are made the same. Choosing to incorporate high-pressure misting solutions into your business or home is just as important as choosing the right company to make it happen. Here at Koolfog, we specialize in partnering with engineers, architects, business owners and homeowners alike to help design and incorporate the optimum system for your environment. With a commitment to innovation, performance, and aesthetics our misting systems experts can create a thoroughly tested and well-designed misting system that aligns with your personal vision and business goals.
Are you ready to design a thoughtfully engineered and meticulously manufactured misting system from Koolfog? Click here to get started.