Storing and manufacturing durable and non-durable goods in a consistent environment is important to avoid problems in quality of materials and the quality and consistency of the final product. Temperature and humidity control are crucial, and Koolfog humidification solutions allow for control during each day of every season.
| | |
| --- | --- |
|  Challenge |  Control temperature and humidity levels year-round for consistency in durable and non-durable goods and materials. |
|  Solution |  Using Koolfog humidification solutions and specialized controllers, we are able to define temperature and humidity levels in storage areas, manufacturing areas and paint rooms. |
|  Benefits |  Our humidification systems avoid the problems associated with swings in temperature and humidity levels including degraded or damaged product, deficiencies in visible appearance or other. Humidity is controlled without overbearing noise levels or wetting. |
Humidification is an essential part of manufacturing and storage for a variety of manufactured goods. Lack of consistent and accurate humidity during the manufacturing process can lead to inefficiencies as well as quality concerns with final goods. Also, if the stored goods are not kept at proper humidity levels, they can deteriorate or be irreversibly damaged. Humidity levels are very specific to different types of materials and can change with weather. That's why it's important to invest in a high-quality humidification system that can adjust with changing environmental conditions. Excessive moisture levels, either too high or too low can damage inventory, materials, equipment or even facilities. A humidification solution must also be scalable to allow for changing processes and growth.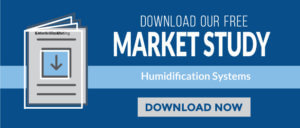 Koolfog humidification systems alter the relative humidity in small and large-scale environments. The process is this. Our systems emit a fog with micron-sized droplets that are perfect for evaporation. These droplets flash evaporate before they hit ground level, which means that the products and processes remain dry while the relative humidity is adjusted to a desired set point. With the ability to section a system off into multiple zones, Koolfog allows for precise humidity control throughout a facility, in different applications and environments. A Koolfog humidification system can also integrate to facility management systems, industrial control systems, greenhouse control systems, weather stations or other outside systems capable of providing outputs to Koolfog's open control scheme.
Wood Product Humidification Textile Industry Humidification
Paper Industry Humidification Cold Storage Industry