As creators of atmospheric special effects for clients around the world, it is our privilege to witness our applications in action. We love taking in a cool art exhibit that features our fog effects as part of an artist's intrinsic vision. We love to tour greenhouses to see our fogging and misting systems help cultivate healthy crops by providing humidification and cooling for optimum plant growth. But it's something quite different to be a guest at a theme park. It's not just a magical feeling, a giddy excitement that brings out the kid in all of us. Taking a day at an amusement park can bring joy, amazement, and understanding and leave long-lasting impressions.
In addition to the prospect of team-building and making memories, we decided to take our crew on a field trip to Universal Studios Hollywood ™ to see just how our different fog and mist systems are utilized and to experience how our atmospheric special effects impact real-time responses and give life to immersive interactions. And oh, what a day it was. After rallying at the office, we hopped on the 10, heading West towards Hollywood. As the freeway dipped into the 134 towards Ventura, we took a quick exit and Lankershim Blvd, moving up the glorious hill towards Universal Studios.
Fountains, Fans, and Fun!
As you walk towards the entrance, you are greeted by the famed Universal ™ fountain with its large world globe spinning in a glorious haze of fog. It is not uncommon to see different entertainment news programs film from this spot. Today, it's a warm, sunny day in Los Angeles and the park welcomes with the promise of fun!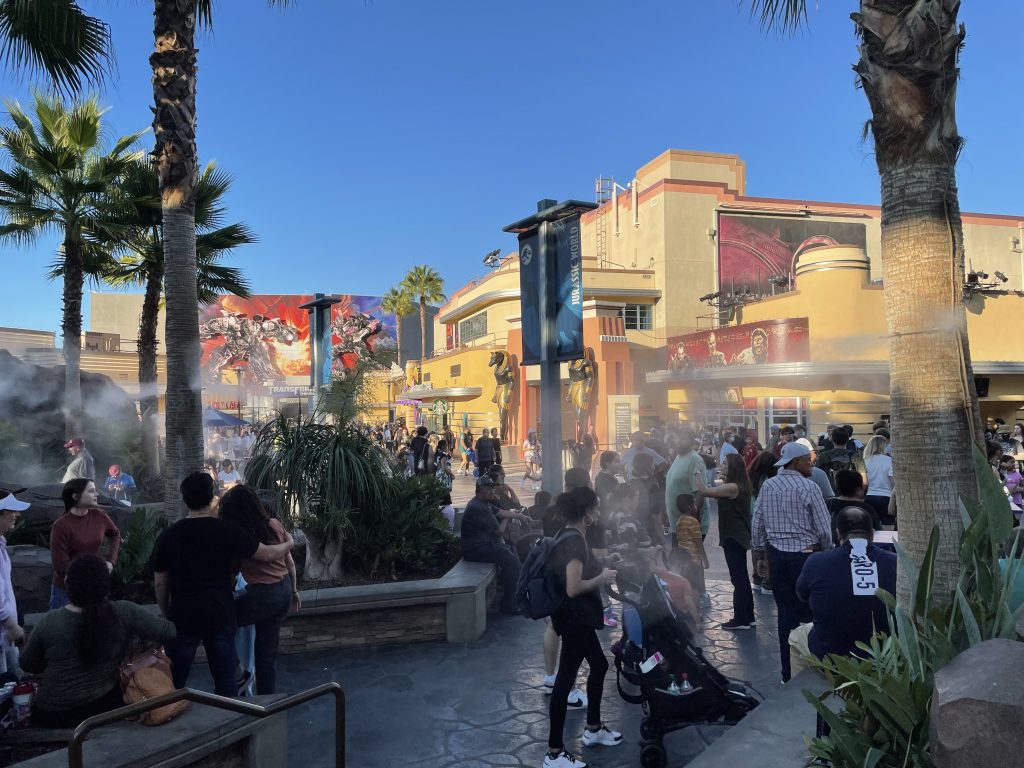 Universal Studio's ™ entry square is dotted with floral arrangements and palm trees with misting rings mounted on them to provide a refreshing breeze for guests waiting in line for tickets. Keeping people cool in line for attractions is an important part of the experience. Overhead mist can be found above various queue lines throughout the park, all strategically positioned to make guests feel comfortable as the wait for some attractions can creep up to 2 hours. Signs throughout the park give guests time estimates so they can plan ahead.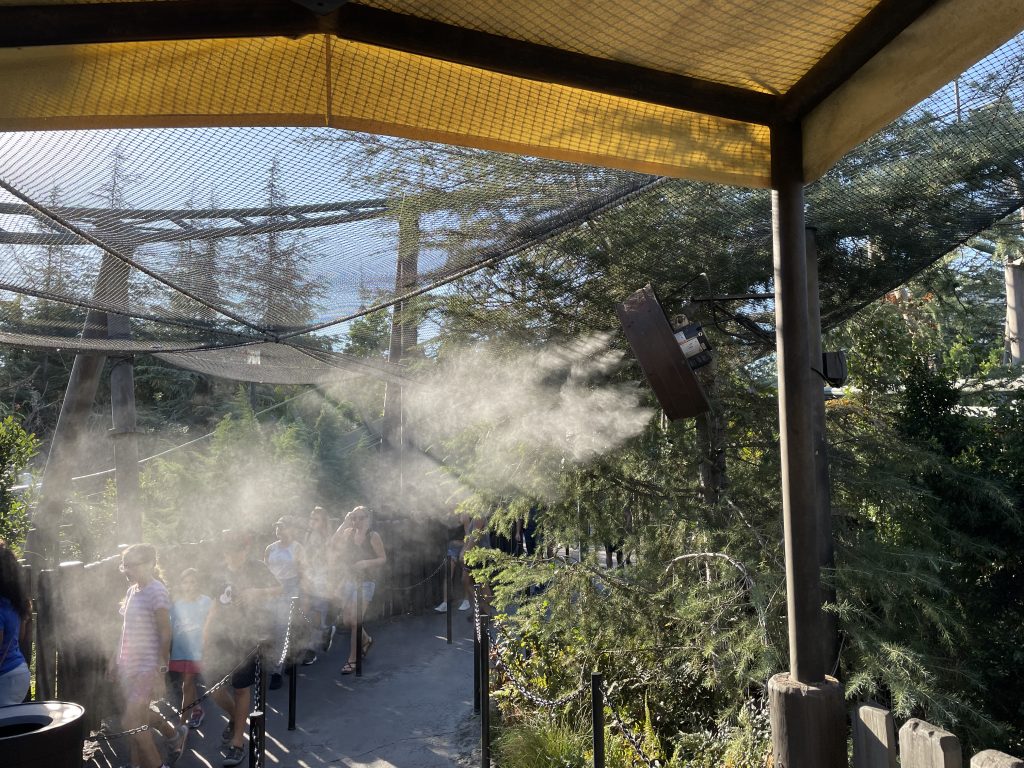 Throughout the park, these types of misting fans are situated at specific spots to give visitors a break from the heat. Some of these fans are cordoned off as "cool zones"; others are not as obvious and are camouflaged to blend in with different themed areas. One example is the DinosPlay area found near the Jurassic Park venue. Kids can dig up fossils, explore a T. Rex skull, play on the jungle climber, or hunt for dinosaur eggs.
The Thrill of the Hunt…Finding Koolfog's Mist-ical Touches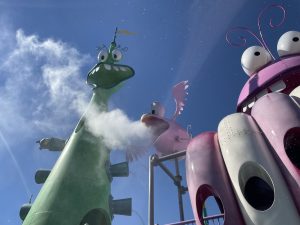 Speaking of hunting, our Koolfog field trip to Universal Studios ™ included a scavenger hunt.  Teammates were encouraged to find Koolfog atmospheric special effects in action with a prize for the person with the most applications encountered. Applications include automated, programmed water, mist, and fog effects that sync with ride or attraction functions. Other applications enhance the visual experience to make guests feel like they are in a real-life environment. This game proved to be an exciting way for our team to organically experience how their hard work is put in scenarios that enhance the celebration and history of film realized in the immersive attractions put forth.
We invite visitors to Universal Studios Hollywood ™ to try to spy Koolfog mist and fog systems and other atmospheric special effects at these attractions…we won't spoil the surprise when you find us but be sure to look in these places:
Explore the mysteries of The Wizarding World of Harry Potter™. Experience the magic of Hogwarts ™. Take a ride on the Harry Potter and the Forbidden Journey ™ and revel in state-of-the-art technology used to make it all happen.
Embark on the "World Famous Studio Tour" to see King Kong fight a 35 ft T-Rex in a 360 3D environment. Do you feel the need for speed? Then look no further than "Fast & Furious Supercharged". Get your heart pumping in a race that uses cutting-edge, authentic special effects and 3D-HD imagery.
Be sure to immerse yourself in the TRANSFORMERS™: The Ride-3D that gives you a next-gen thrill ride that brings you into the experience by fusing real-life special effects, 3D HD media with flight simulation technology.

Latest posts by Michelle Roe
(see all)