Nela Luken park at Village Center in Roseville, California is a beautiful outdoor setting to picnic, explore, and for families to play. The park was named in honor of Nela Luken, a former Senior Planner at the City of Roseville Planning Department and is located at 50 Pleasant Grove Blvd. It is a 3-acre piece of land built by Sierra Valley Crossing on behalf of the City. The park was officially dedicated in June 2019 housing a large open turf area, a play area to engage children 2 years to 12 years of age, and a unique water sculpture, featuring playground misting poles. There are places to picnic, walkways that meander through shade trees, and benches to enjoy the views.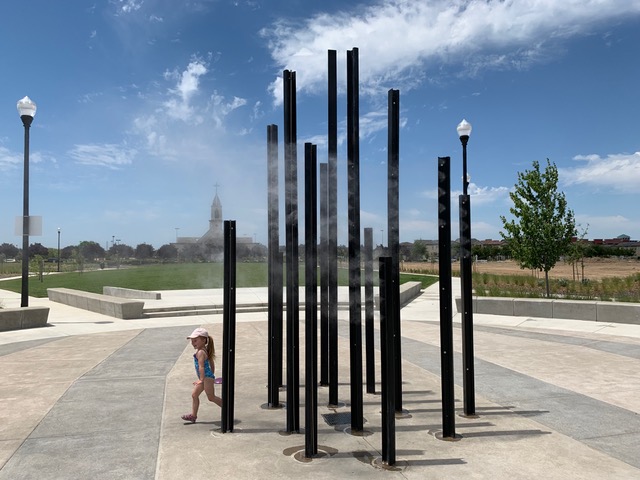 Playground Misting Poles Designed to Resemble Railroad Ties
The master park plan was architected by Chris Tiffany, PLA Sites AP, Senior Project Manager at Schmidt Design Group Inc. of San Diego with a concept to represent the history of Roseville inspired by its roots as a Railway hub. According to the Roseville Historical Society, The City of Roseville was first a stagecoach station then became a railroad junction with California Central Railroad and Central Pacific lines crossing. Roseville Junction continued to grow as a railway hub and as Southern Pacific moved it's facilities within the city, Roseville became home to one of the largest rail yards in the West. While modern transportation has changed dramatically, Roseville's historical reference as a railway hub remains. It has been observed that the overall design schematic of Nela Luken Park looks like railroad tracks formed as paths leading to a central train turntable area…in this case a round plaza where visitors can gather at to cool off and interact with playground misting poles. In keeping with the architects' vision, the sculptured mist poles were built to look like railroad ties in homage to Roseville's railway history.
Using Koolfog Expertise to Meet Technical Design Challenges
The City of Roseville was looking to provide a cooling feature that was not quite as water-intensive from a use standpoint. In addition, they were seeking a less expensive cooling feature than an aquatic splash pad. In a design collaboration with Marc Schwering of Green Choice Design and Joel Schnowski of LandRec, Koolfog's team consulted to come up with a special custom misting pole water feature. We delivered a highly detailed design plans to meet client needs as well as provided support and expertise in meeting environmental challenges. The area in which the park is located is an open space that receives a lot of wind. Even in summer months, high winds might affect the function of the misting poles and the dispersing of water as it hits the air. Koolfog's solution entailed the attention to mist nozzle placement and nozzle porthole spacing. The nozzles wrap in a type of wave around the playground misting poles so wind direction would not hinder the application. A foot actuator times the release of the mist.
Fun, Unique, Cost-Effective
The playground misting poles at Nela Luken Park in Roseville, California proudly salute Roseville's railway history. They artistically represent rail ties while providing a cost-effective cooling solution and hours of enjoyment to children and adults alike.

Latest posts by Michelle Roe
(see all)