College bound students head back to school this fall with hopes and dreams intertwined with their educational journey ahead.  Many universities and colleges have unique sculptures, fountains, buildings, quads, plazas, or courtyards that mark the center of their campuses… a welcoming reminder that those gathering together at these distinguished institutions share a camaraderie and pride in being a member of the elite crowd admitted to their school. These "central" focal points are visual effects that can serve as places to meet up, invitations for new students to find their bearings in a larger environment and can be interpreted as a distinguished identifying factor that stands the test of time.
Oklahoma State University is steeped in tradition… and so are their fountains.  Alumnus, guests, visitors, and students that are fortunate to be a part of "America's Greatest Homecoming" are welcomed, each year, to a sea of orange, the colors of the OSU Cowboys football team.  The OSU library fountain is dyed orange in honor of homecoming week and is certainly, a recognized focal point and gathering place to share in the excitement of the event.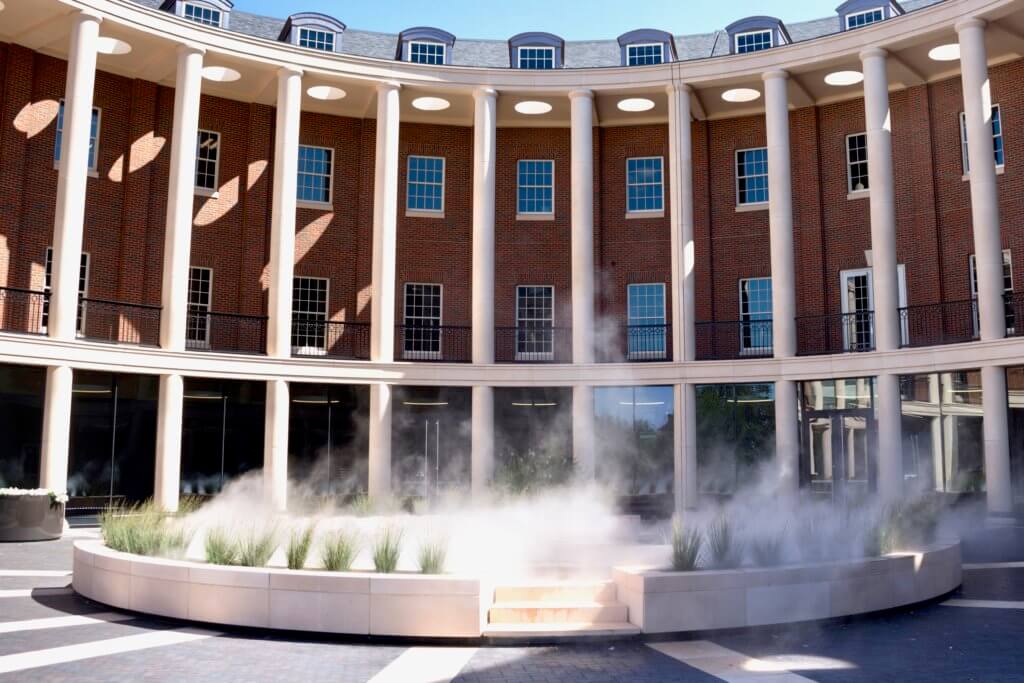 OSU is also home to the Spears School of Business.  For years, students, faculty and administrators went about their studies and duties in many different buildings scattered across the campus.  In 2018, OSU unveiled its new 147,450 square foot brick business building, created to as a "home-base" for business majors and faculty.  Designed by OSU alumnus, Rand Elliot, the crescent shaped structure draws it's architectural inspiration from the many Georgian influenced buildings found throughout the campus.
Koolfog was contacted to develop the fogscape found within the courtyard plaza of the crescent shaped business building center. This unique feature emits a fog cloud that rises from the surface of the ground in an ethereal vapor form that draws attention to the beauty of it's natural presence.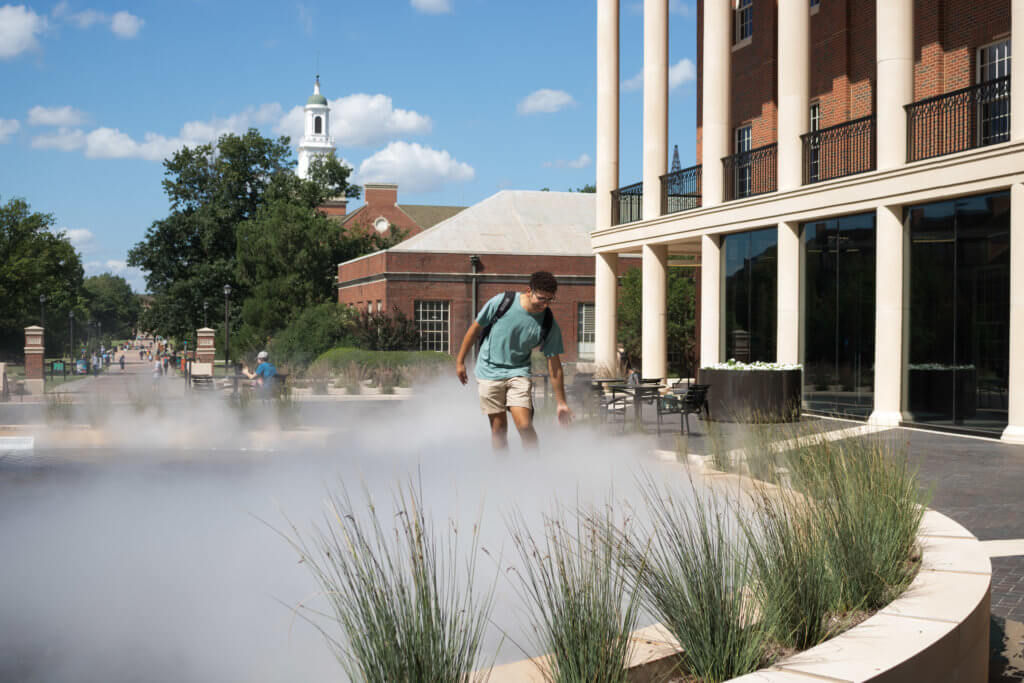 Housed within planters surrounding the raised "sculptural" plaza, fog manifolds are placed upon a dual set of rings.  One fog ring is set to create a path to welcomes guests on most days; however, for special events, OSU ignites both rings to designate the occasion.  Much like the tradition of turning the OSU library fountain orange to signify "homecoming week", the OSU Spears School of Business draws attention to its own notoriety by enhancing its fog effects.
The circular fogscape created by Koolfog is an illuminating visual fog effect that has become a central focal point in the patio courtyard at Oklahoma State University's Spears School of Business. Students can gather and walk through a path of fog housed along the dry surface of the platform on their way to the front foyer.  Visitors have a gathering place to hang out or reflect upon the opportunities that await them when the fog dissipates and the future becomes clear.

Latest posts by Michelle Roe
(see all)