Animal Shelters in the U.S.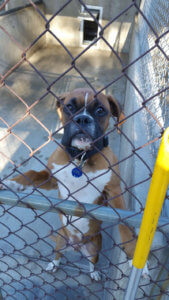 According to The American Society for the Prevention of Cruelty to Animals (ASPCA), approximately 3.3 million dogs enter U.S. animal shelters nationwide every year and twenty three percent of dogs owned by people in the U.S. are adopted from animal shelters. Adopting from shelters is gaining in popularity, especially as people learn about potential issues dealing with certain breeders, such as inbreeding and cruel conditions at "puppy mills." However, even with the rise in adoptions, the average shelter finds themselves housing hundreds of dogs at their facilities each and every year.
Healthy Dogs Required
Shelters treat dogs with as much dignity and care as possible. They don't have a financial incentive to house dogs waiting to be adopted – instead, they operate from the desire to give abandoned animals a safe place to live and wait for their next home. Keeping dogs happy and healthy is a top priority. Healthy dogs are much more likely to get adopted, as potential owners are rarely in a position to take on costly medical bills or ongoing health issues. So, in addition to maintaining vaccinations, spay/neuter programs and a healthy diet, shelters are required to be cognizant of the general well-being of their animals.
Challenge: Keeping Animals Safe and Cool How Misting Systems Affect Animals Comfort For Profit Facilities Return on Investment