Dumke Arts Plaza is in the redeveloped area of the Nine Rails Creative District of Ogden, Utah. The approximately quarter-acre property is an art-focused public gathering place designed to inspire and serve as a hub for contemporary artworks. To create such a dynamic arts center, the shared vision of varied arts organizations, foundations, and the City of Ogden, took input in its implementation from world-class designers, local creatives, and community partners that support arts and culture. The plaza design was ultimately led by Sasaki architects in partnership with IO LandArch and Union Creative Agency with the intent to create an immersive community space to engage with all forms of interactive artworks including aesthetically creative playground misting poles.
A Plinthe, Picnics, and Playground Misting Poles
To erect such a plaza within the heart of this creative district balances the need to pack a lot of different forms of art media into a tight space. The successful plaza plans formed a multi-level solution that draws visitors to enjoy themselves at different elevations. By keeping the aesthetic simple, the space is given a special perspective with the architectural features that represent the diversity of the Wasatch Mountain Range and its colorful foothills. The plaza utilizes a flexible open space to showcase a dynamic outdoor gallery and performance venue with anticipated programs of various sizes to include arts events, concerts, dance performances and video art displays. A large LED screen for multimedia art exhibits as well as film screenings enhances the outdoor area with a large sculpture titled the Beacon, serves as an invitation for visitors to explore the area. To further illuminate this festive cultural scene, a series of unique lighting poles allows for elevated art installations. There is also an upstairs sculptural pad that sits upon a Plinthe with benches to gather. The plaza surroundings are the perfect place for grabbing lunch or sharing time with family and friends, with a play area that features interactive playground misting poles and usable chimes to further the sensory experience.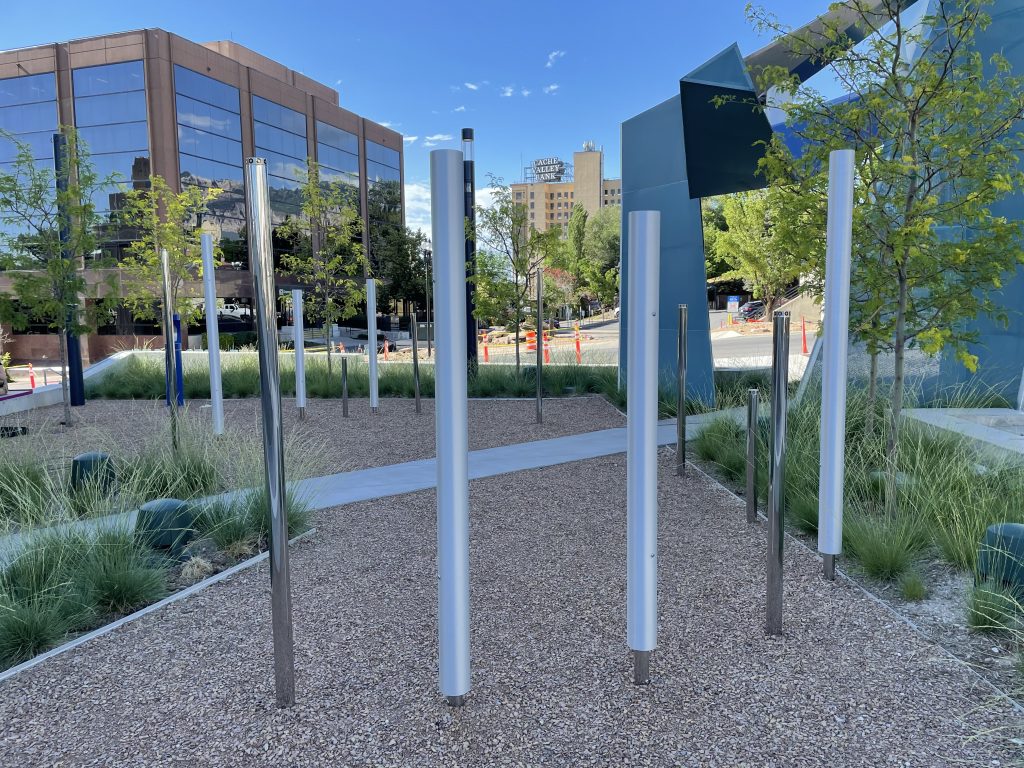 Poised to Cool
Koolfog, Inc. designed custom playground misting poles as immersive recreation stations to engage visitors as well as provide a cooling spot to refresh during warmer weather. The playground misting poles release a fine evaporative mist at programmed intervals. The evaporative cooling technology lowers the temperature of the surrounding environment without over-wetting the atmosphere making for a great sculptural water feature that provides an imaginative and functional cooling place to enjoy free play amidst a rich array of public art installations. Koolfog playground misting poles are a welcoming aquatic focal point to celebrate the artistic form of the earth's water element, adding to the beauty of The Dumke Arts Plaza.

Latest posts by Michelle Roe
(see all)