How it Works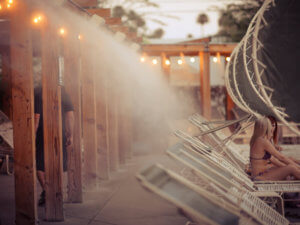 A high-pressure misting system is one of the most effective and efficient methods for cooling hotel spaces. The process is this. Operating at pressures of 1000 psi+ Koolfog produces micron-sized water droplets that, while evaporating and turning to vapor, remove heat from the air, cooling the surrounding area. The dry fog produced by a Koolfog system reduces outdoor temperatures by as much as 35 degrees Fahrenheit, which makes even 100+ degree days comfortable. This ensures that outdoor spaces are comfortable, guests are catered to, and the attention to guest well-being is a recognized priority of the hotel or resort.
Let's take the example of a hotel with poolside cabanas. Guests come to the pool area because they want to relax and cool off during hot summer months. However, remaining poolside is another question, especially when the weather is extreme. One way to ensure that clients are comfortable in and out of the water is to add misting to the cabana experience. The cooling effects assures that they are more likely to spend time by the pool and enjoy poolside services.
Increase Revenues Too!
Cabana misting can add revenue in two ways; one, by increasing the likelihood that guests will spend more to rent out or reserve a cabana and two, by making it more likely for guests to order food and drink service. At upscale hotels, cabanas may range from $100-$300 per day, depending on extra services added. A sandwich or pizza ordered to the pool ranges from $12 to $20, and drinks $3 to $12. A family of 4 might leave with an average ticket of $100 or more after enjoying a few hours poolside.
A Happy Customer is a Repeat Customer
It is also important to note the fact that comfortable customers are repeat customers. According to Deloitte, only 8% of people stay at the same brand of hotel when they travel, so guest comfort is clearly very important to bring customers back. Adding misting amenities in reserved cabanas is one strategy, but a hotel can also incorporate them into poolside common areas, outdoor dining patios or even private patios in upgraded suites. This signals an overall concern for the guest experience and is certain to play into repeat stays.
Challenge: Keeping Hotel Guests Comfortable Outdoors A Happy Customer is a Repeat Customer