This Fall, The Ohio State University College of Food, Agriculture, and Environmental Sciences hosted the grand opening of the Controlled Environment Agriculture Research Complex (CEARC). The CEARC will provide a platform to take interdisciplinary research in horticulture and crop science to the next level. Located on the grounds of the Waterman Agricultural and Natural Resources Laboratory, the facility is a first of its kind in the United States. Consisting of a head house, a research greenhouse and a production greenhouse, the complex will be premier hub for interdisciplinary research in the areas of horticulture and crop science, engineering, computer science and more. The state-of-the-art CEARC features a 15,000 square foot headhouse with offices, classroom space, potting, storage, and a processing lab to support 25,000+ square feet of greenhouse growing space. It is equipped with modern resources to assist faculty, staff, and students in tackling pressing environmental, agricultural and food growth management challenges.
Koolfog was brought in as a partner to evaluate and provide solutions for a greenhouse humidification system. Working along-side LLK Greenhouse Solutions, Koolfog provided information and guidance on vertical air-flow fan integration covering electrical, mechanical, and performance characteristics. Koolfog and LLK Greenhouse Solutions worked together defining routing of distribution lines and assisted with techniques related to provisioning and implementation. Working with Vostermans V-Flo vertical air-flow fans, Koolfog custom fit fog rings to the specifications required for the CEARC rooms.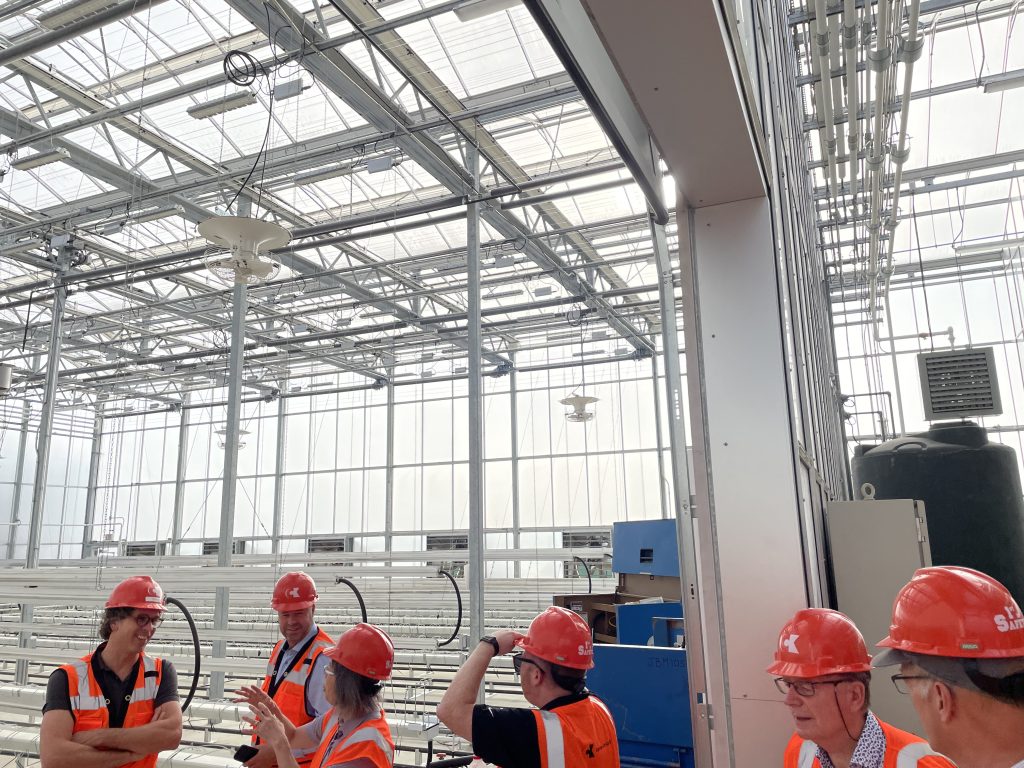 Koolfog has worked with Vostermans solutions on prior projects and understands its place for "Next Generation Growing" in ag and horticulture. The fans provide vertical circulation to provide a uniform greenhouse climate with horizontal air layers to efficiently move air between plants.
The logistic planning for this project was very complex with materials for the greenhouse complex coming from around the globe. The fans (a gift-in-kind to the University) were sourced from one location and Koolfog equipment from across-country. To help reduce complexity, Koolfog volunteered to receive the fans at their manufacturing facility in California and produced, tested, attached fog rings to the Vostermans fans. Koolfog, then, created one cohesive humidification package to be shipped directly to the job site including the fans, an Oasis (scale-able fog pump), high-pressure plumbing and miscellaneous fittings and components. The Oasis has the capacity to provide independent zone control within the facility as well as operate in a constant pressure or variable pressure mode. Additionally, the Oasis provides a straightforward method for integrating into any greenhouse control system.
LLK was responsible for the installation of the Koolfog greenhouse humidification system and relied on consultation and support, both live and through instructional videos provided by Koolfog.
Koolfog is honored to be part of finding solutions for pressing matters that effect food resources for people and how it impacts our planet. With a growing population and loss of farmland, agricultural innovation must intersect with scientific solutions to ensure sustainable resources.  The Controlled Environmental Agriculture Research Complex is positioned as a facility for active learning, research and production to create future crop efficiencies.

Latest posts by Michelle Roe
(see all)