California is the nation's largest Indian gaming state in the nation with total revenues of $9 billion annually. There are 76 Indian casinos and 5 mini-casinos. The 76 California Indian gaming casinos are owned by 73 of the state's 109 tribes.  In addition to gaming, hospitality is an important component to attracting guests to the casino resort facilities.
Hospitality Definition:
Hospitality means receiving and entertaining guests in a way that makes them feel well taken care of. It leverages ambiance, service and products or amenities to provide guests with the best experience possible.
As beacons of hospitality, California's Indian Casinos have invested in providing on-site hotels, lavish spas, beautiful pool areas, and artistic elements that represent their individual tribe. As an organization that creates atmospheric experiences to enhance ambiance, Koolfog is proud to have designed and installed outdoor misters and fountain fog effects for many of these properties.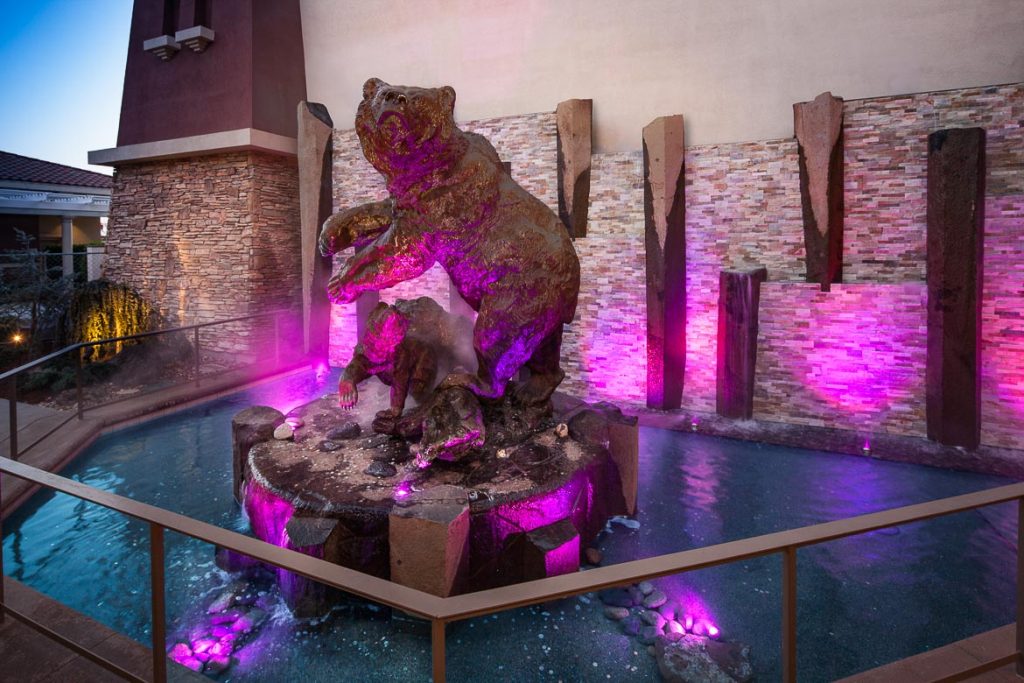 A Bear Rises in a Cloud of Mist
The symbol of the bear holds significance for the United Auburn Indian Community (UAIC). The bear is considered a sacred animal in many Native American cultures, including the UAIC. It represents strength, protection, and wisdom. The UAIC often incorporates the bear symbol in their artwork, ceremonies, and cultural practices to honor their heritage and connection to the natural world. Koolfog worked with Nimbus Ponds to bring to life the artistic vision of sculpture designer, Douglas Van Howd. The water feature is a large pool with a stone backdrop featuring monoliths and a large bear hovering over a cub at the center focal point.
The fountain fog effects in the fountain compliment the LED lighting and thunder sounds. The fog effects are intentionally placed around the sculpture and monoliths to add to the majesty of this symbolic experience.
Overheard:
"There is something about this fountain that has drawn me in and captured the spirit of my stay here."
Outdoor Misters Could Be a Future Enhancement Around the Pool & Patio Area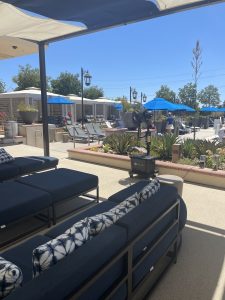 On a recent site visit to Thunder Valley Casino Resort, our team took time to scope out the pool and patio area. It is a beautiful area with a large lounge area and cabanas surrounding the pool.  There is also a well-appointed poolside food and beverage station to grab a quick bite or sip in style.  The day of our site visit, the temperatures were triple digits and there were some portable misting fans put out to cool guests. However, with limited coverage, these misting fans offered  limited cooling and many cabanas and lounges were empty. To further provide comfort to guests, increase poolside dining and recreational use and thus increase revenue, we recommend placing outdoor misters on the cabanas as well as lounge and outdoor patio dining areas. Koolfog has been very successful in providing the highest quality outdoor misters in many of California's Indian Casinos. As we have already created fountain fog effects for "Bear" water feature, Koolfog feels confident that should the UAIC and Thunder Valley Casino Resort ever wish to install outdoor misters, we would love the opportunity to add this cooling feature to the property.

Latest posts by Michelle Roe
(see all)