Miracle Mile Shops at Planet Hollywood Resort & Casino is a popular shopping and entertainment complex located on the Las Vegas Strip in Las Vegas, Nevada, USA. It is not a traditional mall, but rather an indoor shopping and dining area that spans approximately 1.2 miles (1.9 kilometers) in length, hence the name "Miracle Mile."  The environment blends the lights of Vegas, unique attractions, and a fantastic fogscape along paths to various stores offering daily staples making it a shopping and destination for tourists and locals alike. The fogscape sits in the middle of the mall within a dreamy pond surrounded by rocks and a walking bridge. The backdrop gives the impression of a village square where patrons can throw loose change into the fountain to make wishes under the starry sky. Coined the Rainstorm Show, this water sculpture comes to life in a timed show of synchronous lights and sound effects illuminated by a fog feature.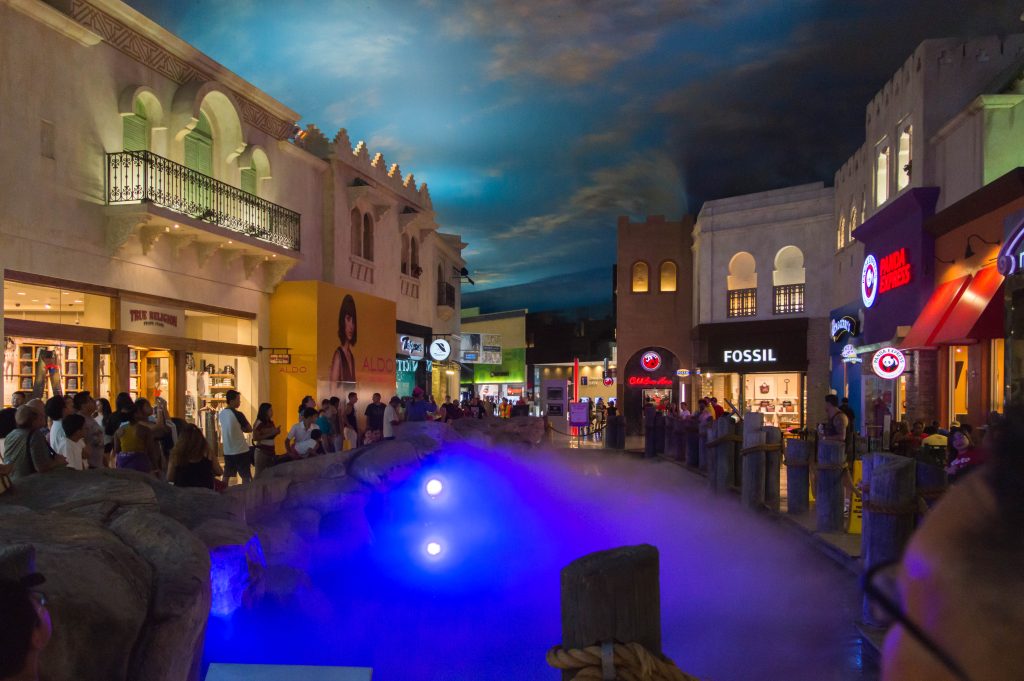 The architecture and design of the shopping complex have a vibrant and visually appealing design, featuring an indoor street-style layout with faux-sky ceilings, colorful storefronts, and unique decor elements.  There are old-world stylish facades and squares for gathering. With dimmer lighting, the quaint interior draws attention to an eclectic mix of shopping and dining options. Amidst popular brand storefronts, boutique shops, and souvenir stores, there is a huge amount of NFL Raider merchandise.
The Raider Image is the official team store of The Las Vegas Raiders for game day gear, tailgating merchandise and everyday items to show RAIDER NATION team spirit. The Super Bowl-winning Raiders became a part of the Las Vegas landscape after the 2019 season and have inflamed a passion in fans. The pure abundance of Raider Image kiosks and banners throughout the Miracle Mile Shops speaks volumes.
"Eatitude is Everything"
The complex offers a diverse selection of dining options, ranging from fast food to casual and upscale restaurants. Visitors can find a variety of cuisines to satisfy their taste buds. Highlights  include:
A sip at: Tipsy Robot for hand-crafted artisan cocktails made with a robotic arm
A sweet at: Cocolini for homemade Italian gelato
A song at: Cabo Wabo Cantina for great food and drink while vibing to live rock'n'roll music.
A Miracle Wishing Well with Fogscape Features
Koolfog worked with partner Technifex who revamped the the Rainstorm Show including the fogscape feature. All stainless steel fog lines were replaced along with the fog nozzles during the renovation.Now guests can gather around for the Rainstorm Show or just enjoy the pond at other points in the day to enhance the shopping and dining experience. Our goal met; to create and immersive fogscape that is complimentary to the aesthetic of the atmosphere.

Latest posts by Michelle Roe
(see all)