On any given day, thousands of people visit theme parks around the world to make family memories, experience new attractions, and celebrate the magic of exploring through imagination. Universal Studios Hollywood is a destination theme park known for its behind-the- scenes tours, exciting attractions and contributions to the film industry that puts guests into the heart of what makes movie magic. From film production sets that use authentic special effects in scene creation to sound and visual technology including photography, video, animation CGI, green screens, et al…the drive and motivation to thrill visitors with ground-breaking cinematic discoveries is front and center at Universal Studios Hollywood.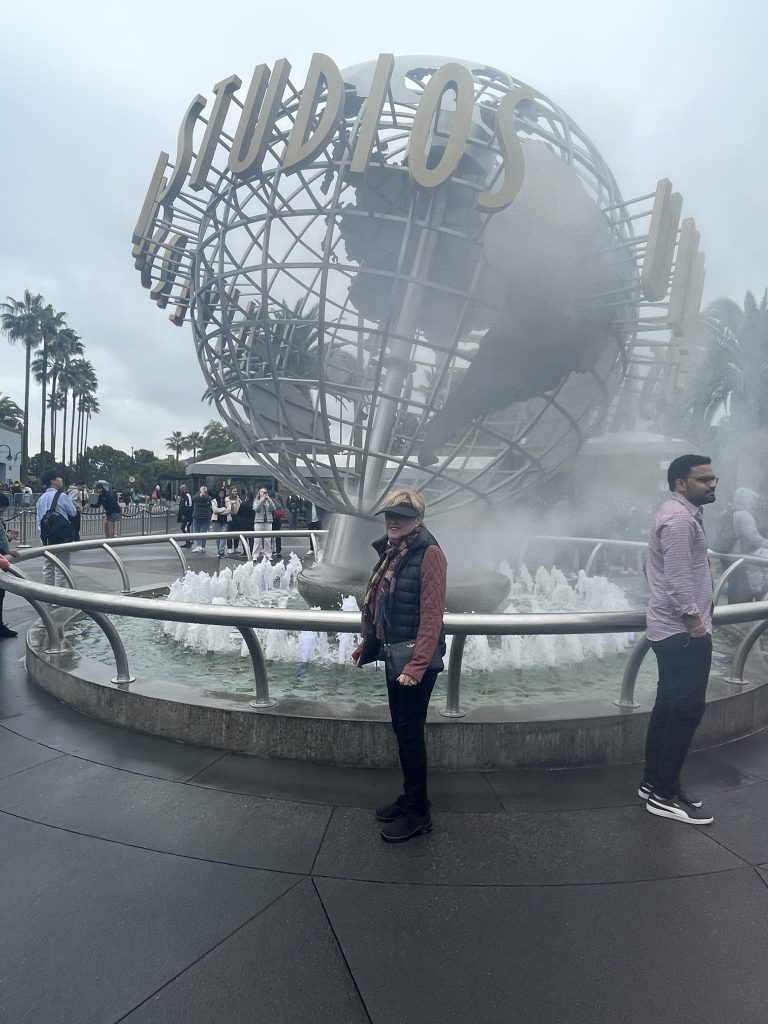 Many people associate a trip to an amusement or theme park as an adventure to share with their children. But how about an octogenarian…what type of experience or revelations might an 80-year-old person reveal? This is a person who, literally has grown up with some of the most historic innovations in movie characterization, film production, sound stage development, and technology in almost a century.
While Universal Studios Hollywood was established as a movie studio in 1912, the theme park came to fruition in 1964. The first "tours" included dressing room walk-throughs, production "peeks", and some staged events that evolved into a narrated tram tour. Today, deemed the "Universal Studio Tour" is comprised of a view of the studio back lot, actual movie-production offices, talent trailers, and world-renowned movie production sets. As a leading global entertainment destination, Universal Studios Hollywood delivers highly themed immersive lands that translate to real-life interpretations of iconic movie and television shows. The park houses stunt shows, high-tech rides, and immersive environments that allows visitors to experience venues with atmospheric technology and authentic special effects. It is also home to NBCUniversal's West Coast operations, adjacent to Universal CitiWalk's outdoor dining and shopping destination as well as Universal Hilton Towers & Sheraton Universal Hotel properties.
For our excursion, we tailored the Universal itinerary to what our octogenarian guest, we shall call her Jane, thought she might like. To prepare, we reminded her of the film sets she would be familiar with like "WaterWorld"/"Jurassic Park" and we introduced her to such "newer" films such as the Harry Potter and Fast & Furious franchises with a binge watch party before the trip.  Here are some of Jane's observations:
Expectations:
"It's been 44 years since the last time I came with my children. The Battle of Galactica (from the 70's Battlestar Galactica television show) was a "high-tech" ride and I remember Jaws but I'm excited to see it again. I remember it to be a very thrilling and scary thing to see and I know that's a long time ago, but I'm excited to see new things and how things have changed…especially with the advancements in atmospheric and special effects.
First Impressions:
"I was in complete awe. The older I am, I appreciate so much more the intricacies and technology that it takes to a Universal Park together. I couldn't believe the Castle in the Harry Potter experiences and how accurately the details were depicted. The replication was so authentic that I thought I was there at Hogwarts. The smokestacks had "fog effects" and the wand from Ollivanders…all the animation and the technology it must take to make things happen…it was truly magical. I wasn't so familiar with Harry Potter and now I want to see the whole series!!"
Favorite Thing about the Park:
"Definitely, the Studio Tour for me. If I did only one thing, it would be this. To see the heritage and how things are produced and to see how these pictures are made behind the scenes…It's so exciting. Things have changed a lot through the years but to see how things are filmed, the history, the highlights…the facades of buildings on the back lots and the production sets. It's neat to see how they use the different sets in different ways and repurpose them for different movies."
Stand-Out Moment:
"The Jurassic Park dinosaurs. They are so real and authentic. I actually felt bad for some of the children on the ride because it seems like they might be eaten. They came out of the mist and you could see their breath, and you felt the spray of their roar. You could see their teeth. It was amazing."
What is Something You Learned?
"Well, The Special Effects Show really gave me a sense of how things are made and how the technical special effects in stunts, sounds, visual, and atmospheric technology (spray, rain, mist, fog, fire, water) mix to make things seem so real and authentic. It's a combination of artistry and technology that is so integral to the whole atmosphere and it really makes the experience seem like you are in a movie. It also helped me understand and appreciate things like the Water Show (WaterWorld)…so exciting!
Overall Impression:
"Universal Studios is a totally different experience from what I think are "theme parks". You are placed in the middle of a movie with special effects and the whole atmosphere. You can see the heritage of film but blockbusters like Jurassic Park can be enjoyed by everyone! The park is, also, really accessible. I enjoy walking but I didn't get tired. There are trams, elevators and shows so it doesn't have to be about roller coaster rides. You can take it easy but immerse yourself in the whole experience. I didn't feel I missed anything even though I didn't go on the "rides" (with the exception of Jurassic Park). Being so close to CitiWalk was so great as we had great food and that is a destination in itself. The whole Universal experience was well worth the trip!!"
Some Pro-Tips if you want to plan a trip for all ages!!
If you can splurge, get the Universal Express ticket, to save time in line and get "express" access to tours, attractions or shows, once per day.
There is not a paper park map provided. There is an app/bar code (see above) that you download. It offers a map and keeps you up to date on show and wait times.
You can get a "stamp" for in and out park privileges if you wish to grab a bite at Universal CitiWalk any time during that day during normal park hours. CitiWalk is located on the property adjacent to the park. It is a shopping and dining outdoor mall-type destination. CitiWalk is open to the public and does not require a Universal Studios park ticket so you can dine there when you are not within the park.
If it starts to rain, never fear. Head to the lower level and go to the Jurassic Park store at the ride entrance. They sell ponchos to keep you dry on the ride and they are awesome for inclement weather.
Take the Studio Tour during daylight, make the WaterWorld show at twilight and Jurassic Park under moonlight. The Special Effects Show is also Sensational… don't miss this!!
Thanks, Jane!! Can't wait to take you back!!!
Did you know?
Here are some notable Universal Studios Hollywood movies:
Traffic
Casino
The Flintstones
The Graduate
Apollo 13
Scarface
The Bourne Series
Waterworld
Notting Hill
Gladiator
Jaws
Breakfast club
ET
Mamma Mia
Minions
Battleship

Latest posts by Michelle Roe
(see all)