Along with the addition of water canons to "Jurassic Park — The Ride" and liquid nitrogen effects to "Revenge of the Mummy — The Ride" Universal Studios Hollywood has added to its ever-growing list of cool areas aimed at providing guests with relief from the heat in 2007. Cool enhancements include misting and fog lines hidden amongst trees, architectural accents, landscapes and props. One visible example is the curtain of cool, refreshing fog enveloping guests as they enter the popular Studio Tour. As a final touch, Koolfog misting fans are strategically placed in rest areas and queue lines keeping guests cool while they wait in line or rest their feet in preparation for more adventure.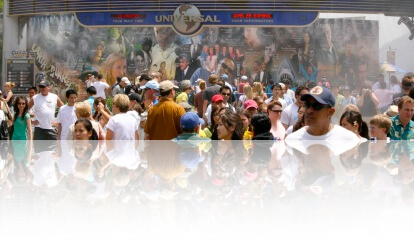 Founder and President
at
Koolfog
Bryan has been working on the forefront of technology for his entire professional career. Slightly obsessed with strategy and development, his drive and focus catalyzes the best ideas into reality. With a constant eye on technology development while advancing thoughtful business models that deliver, Bryan offers exceptionally effective and efficient cooling technologies that provide enhanced comfort and enjoyment for people, plants and animals.

Latest posts by Bryan Roe (see all)