Preparing for the Heat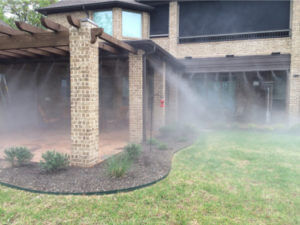 Now that spring is in full swing, temperatures throughout the United States are rising rapidly. And with summer just around the corner, it's only going to continue to get warmer. For those business and homeowners with a mister system, now's the time to bring them out of their winter hibernation. There are a few more steps than just simply turning on the water. If you remember, last December, we provided misting system owners with maintenance guidelines to prepare your mister system for winter. So, if you followed those guidelines, then getting your mister system up and running once more will be no hassle at all!
Mister System Preparation
Before you reconnect your mister system to its main water supply source, take a moment to inspect the misting system lines and nozzles. Specifically, you should clear the nozzles of any potential debris or hard water buildup on the exterior orifice and check the integrity of the hoses and other components that may affect the flow of water through the system.
Next, re-check the water mister canisters to ensure the filters are exchanged for new filters. After that is complete, you're ready to reconnect your misting system to its power and water supply. Turn the system on and re-calibrate to your desired settings. Finally, run the system for 30-45 minutes to ensure that everything is running smoothly and that the system is misting or humidifying the area according to your settings. Now you're ready to keep cool all summer long!
General Maintenance and Support
Performing mister system maintenance during both the winter and spring is important because it extends the life of your misters. General maintenance to ensure that all the various parts of the system are functioning properly is hardly time consuming and actually helps save you money in the long run. It also ensures that your mister system is fully functional when you need it most.
However, should you find any problems with or have any concerns about the state of your mister system, our misting experts are here to help. Here at Koolfog, we offer technical support and can also connect you with a technician who's familiar with Koolfog systems to help resolve any problem. Please contact us right away so we can assist you.

Founder and President
at
Koolfog
Bryan has been working on the forefront of technology for his entire professional career. Slightly obsessed with strategy and development, his drive and focus catalyzes the best ideas into reality. With a constant eye on technology development while advancing thoughtful business models that deliver, Bryan offers exceptionally effective and efficient cooling technologies that provide enhanced comfort and enjoyment for people, plants and animals.

Latest posts by Bryan Roe (see all)