Playing Outside in the Summer just got Better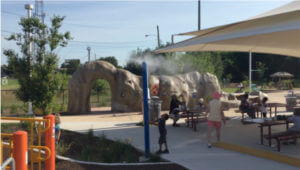 Outside activities for kids during the summer are quickly limited when temperatures reach their peak. Especially for kids who live in hot climates, where temperatures often exceed 90 degrees. However, playing inside all day simply isn't the same as outdoor play. So, it's no surprise that schools and daycares struggle to find ways to create outdoor play spaces that help children to withstand the heat. The best solution? Install a daycare misting system and create plenty of shaded areas for kids and instructors to stay cool.

Benefits of Daycare Misting
Studies have shown that regular intervals of high activity allow children to expend their natural energy. This intern helps to improve their cognitive processing. Students who are permitted regular play intervals can handle more complex ideas that they can process quicker and learn at a faster rate than stagnant children. That's why many educators know and understand the importance of creating environments and programs that include ample play periods followed by stimulating rest periods that are both safe and enjoyable.
It's equally important to remember that a child's internal safety mechanism is not fully formed. Therefore, they are less aware of physiological dangers and how to combat them. This unformed awareness causes children to be more susceptible to the dangers of heat stress and exhaustion. Adding misting systems to lunch and playground areas creates a cool and controlled environment for children to function in. These systems also help to maintain their body temperature. Within these shaded areas, children can play and rest while still interacting with their surrounding environment. This will ultimately help to prevent heat stress and allows students to return to the classroom ready cool and ready to learn.
Installing Misting Systems
The most effective way to add a misting systems to a school or daycare is through the use of misting lines that are attached to pre-existing shade structures, like lunch or other outdoor seating areas. If these types of structures are not already established on-site, another cooling alternative would be to install misting poles. These poles are designed with an elegant yet modern style to complement most landscapes and are equally as effective.
At Koolfog, we go above and beyond to provide quality outdoor cooling solutions. With more than 30 years of misting experience, we're known throughout the world as leading innovators in misting systems. So, no job is too hot to handle. Contact us today to get started on designing the daycare misting system that's right for you. Begin providing your students with a cool environment to play in all summer long.

Founder and President
at
Koolfog
Bryan has been working on the forefront of technology for his entire professional career. Slightly obsessed with strategy and development, his drive and focus catalyzes the best ideas into reality. With a constant eye on technology development while advancing thoughtful business models that deliver, Bryan offers exceptionally effective and efficient cooling technologies that provide enhanced comfort and enjoyment for people, plants and animals.

Latest posts by Bryan Roe (see all)