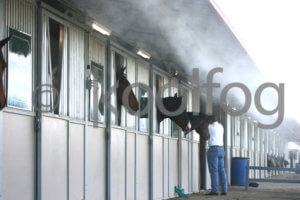 Preventing heat stress in cattle, swine and other livestock isn't about proper ventilation and grazing practices anymore but ensuring safety precautions against heat stroke and exhaustion in rising temperatures. Evidence for a restless climate has sparked the causal discussion fires of almost every color. No matter which side of the debate you are on, the average annual temperature for 48 states has indeed risen by 1.5 degrees in the last 10 years. Such sudden leaps have changed the landscape for many, including livestock farmers. No matter if you're raising dairy cows, swine or poultry, housing your domesticated animals and regulating temperatures in the growing hot and sticky months of the year is a definite problem.
Livestock cultivators are also facing a giant shift in demand concerning the use of subtheraputic antibiotics, or antibiotics used to bulk up and allow for confinement housing. Research into the adverse effects of high dosages of antibiotics on the human immune system has caused the public to change their demands from cheaper meat to healthier cows, swine, poultry and sheep. So how do the leaders in agriculture rise to the demand of lower antibiotic usage while also preventing heat stress in cattle, swine and sheep? Perhaps high-pressure misting systems are a piece to this growing puzzle. Using high pressure pumps, misting systems employ evaporative cooling techniques to maintain temperatures to optimal conditions while promoting more efficient feed consumption in livestock. Fog systems positioned above a crowd of dairy cows don't just give guilt-free images to consumers; it diminishes high temperatures, which provides for less stress, thus higher quality meat.
We love labels like 'grassfed' and 'humanely raised'. Pictures of cows grazing across the field or high-pressure misting fans cooling swine and cattle free stalls are the images we cultivate when sitting down to our dinner table at night. Wagyu cattle & kobe beef may have been a delicacy at one time but we now expect all of our farm animals the freedom to live a more natural and comfortable existence.
Although there is a lot of controversy over the accuracy of some of the correlations between the use of antibiotics and the growth of superbugs in human physiology, the fact remains that a majority of consumers living in the paradigm shifting culture of higher health over lower costs want antibiotic free meat that is well maintained before coming to their local grocer. In a poll from the Consumer Reports National Research Center, 86% of consumers think that meat should be raised without the use of subtheraputic antibiotics. In the same poll it was established that 61% of consumers would pay up to 5 cents more per pound of antibiotic free meat and 37% would pay up to a $1 more. Arguments against antibiotic free meat either express concern for higher costs for farmers and/or higher prices for consumers. But we don't care. The threat of superbugs and rising MRSA diagnoses have us scared and there is enough evidence for the public that lowering antibiotic use all around, from the doctor's office to the grocery store, is a preferred practice.
Heat stress in cattle, swine and other livestock can severely diminish feed consumption, the potential growth rate of livestock and the potential return from sales. Creating a comfortable environment for your livestock is no longer a luxury, but a necessity. Farmers who neglect to pay attention to the changing trends within their own market may burn up in this temperate and ever changing world.

Founder and President
at
Koolfog
Bryan has been working on the forefront of technology for his entire professional career. Slightly obsessed with strategy and development, his drive and focus catalyzes the best ideas into reality. With a constant eye on technology development while advancing thoughtful business models that deliver, Bryan offers exceptionally effective and efficient cooling technologies that provide enhanced comfort and enjoyment for people, plants and animals.

Latest posts by Bryan Roe (see all)