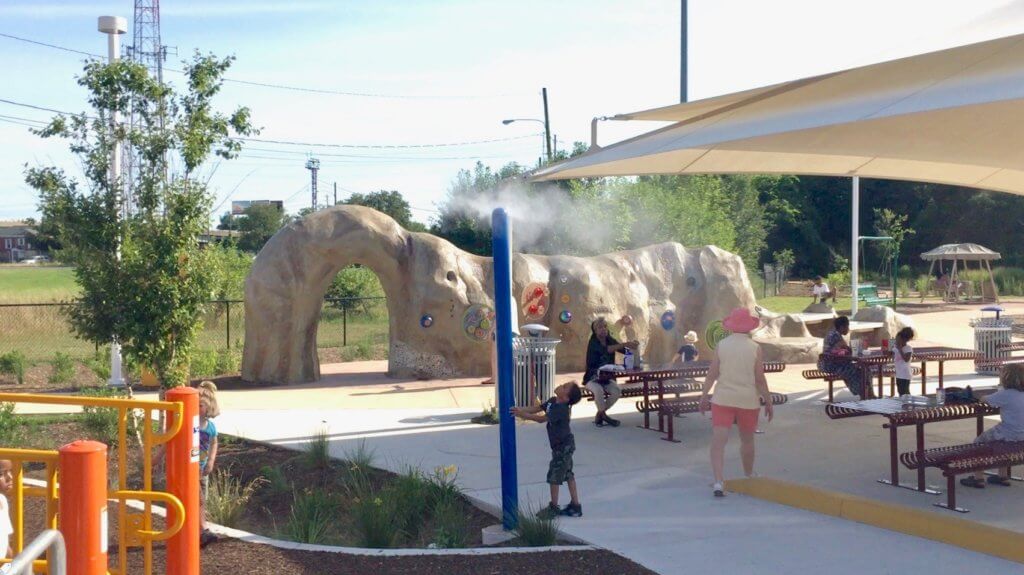 PARK365 located in Richmond, Virginia (formerly known as ARCpark) is an all-inclusive park created by SOAR365 (formerly The Greater Richmond ARC) an organization dedicated to creating life-fulfilling opportunities for individuals with disabilities. SOAR365 is a non-profit organization that provides programs and services for people with disabilities including "pediatric therapy, employment, summer camp, respite, and programs for children and adults".
Park365 is situated adjacent to SOAR365 headquarters and the name reflects that its open 365 days a year. This free, family-friendly, public park, has become a destination attraction that encompasses 2.4 acres of handicap accessible, interactive fun for all ages.  Guests are encouraged to "gather, play, grow, create, move, explore, discover, and refresh" in this well-planned recreational environment sporting three state-of-the-art playgrounds.
This one-of-a-kind immersive environment includes a shaded eating area, a wheel-chair accessible treehouse, swings, a water wheel, and a creative playhouse designed to stimulate the imagination using musical instruments, water troughs, and a small stage. This inclusive setting, further, welcomes with wheel chair charging stations, handicap-accessible fitness equipment, and a custom multi-sensory wall encouraging visitors to touch, hear and use their sight.
Koolfog, Inc. worked in collaboration LPDA a premier Landscape Architecture and Land Planning firm to provide misting stations that complement the multi-purpose area designed to accommodate various activities, events, and focused play based learning features. Koolfog misting poles are used in and around landscapes, decking, commercial, outdoor dining areas, and public park settings.
For Park365, Koolfog Inc's manufacturing engineers worked with LPDA's project design team to incorporate custom water misting poles and water spray-mist stations to engage visitors as well as provide a cooling spot during warmer weather. A set of 8, brightly colored, misting poles have been set amidst natural landscape elements strategically placed along meandering pathways. The misting poles are triggered by mounted push-buttons that release mist and utilize evaporative cooling technology. Using the Koolfog Oasis fog pump, the core high-pressure, pure water system lowers the ambient temperature of the surrounding environment while allowing a constant pressure to keep the poles active regardless of how many poles are in use at any one time.
On a trip to the Richmond, Virginia, members of our Koolfog Inc. team, visited Park365.  We were able to walk around the structures and observe smiling guests cooling off at our Koolfog misting towers while children eagerly pushed the mist pole buttons with joyful laughter.  It was amazing to see the fruits of our work making people comfortable and happy. The introduction of these wet elements into the Park365 setting compliment the intentioned play-based outdoor classroom experience. But witnessing the sense of wonder resulting from our fog cloudbursts and the delightful reaction from kids becoming aware of cause and effect concepts makes us proud to be just a small part of building inclusive opportunities for all to share.

Latest posts by Bryan Roe
(see all)