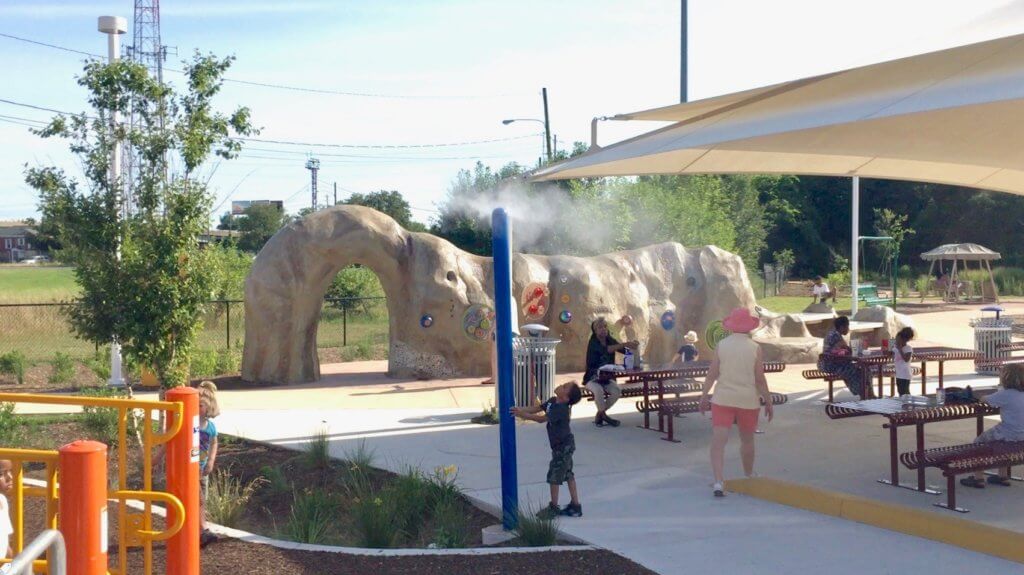 PARK365, (formerly known as ARCpark) is an all-inclusive park created by Richmond, Virginia's ARC, an organization dedicated to creating life-fulfilling opportunities for individuals with disabilities. The park encompasses 2.4 acres of handicap accessible, interactive fun for all ages. Guests are encouraged to "gather, play, grow, create, move, explore, discover, and refresh" in this well-planned recreational environment that includes an expansive, covered eating area, a tree-house, a water wheel, and a multi-sensory wall that stimulates touch, hearing and sight.
Koolfog, Inc. designed custom water misting poles as immersive play stations to engage visitors as well as provide a cooling spot to refresh during warmer weather. The strategically placed, brightly colored, misting poles are triggered by buttons that release mist and utilize evaporative cooling technology. The core high-pressure, pure water systems lower the temperature of the surrounding environment. Koolfog Misting Poles are used in and around landscapes, decking, commercial, outdoor dining areas, and public park settings.
The Koolfog misting poles installed at PARK365 compliment the intentioned outdoor classroom experience. Koolfog misting poles towers enhance nature inspired learning with very limited overhead by introducing different elements that re functional without compromising fun!

Founder and President
at
Koolfog
Bryan has been working on the forefront of technology for his entire professional career. Slightly obsessed with strategy and development, his drive and focus catalyzes the best ideas into reality. With a constant eye on technology development while advancing thoughtful business models that deliver, Bryan offers exceptionally effective and efficient cooling technologies that provide enhanced comfort and enjoyment for people, plants and animals.

Latest posts by Bryan Roe (see all)