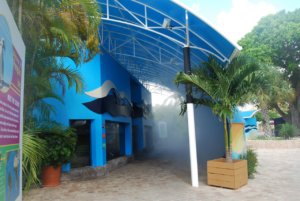 When the Miami Seaquarium decided to renovate their penguin exhibit, they knew they needed to add a cooling element to make standing in line and viewing penguins in the summer more bearable. Koolfog designed discrete misting nozzles to spray cooling fog around visitors who are waiting in queue.
Aquariums and zoos are starting to use misting more and more to keep both animals and visitors comfortable. Misting line can be installed inside or outside an exhibit, or even on walkways and paths. It's a great way to make an outdoor venue appealing year round, even during the hot summer months.

Ella brings her passion for creative communication and a fresh perspective to our Koolfog team as marketing assistant. Charged with the responsibility for developing website content, blogs, and promoting our amazing cooling technology, Ella is making a difference with her attention to detail.In her "spare" time, Ella juggles her studies as a Communications major at the University of California Davis while fostering kittens, hiking, and baking.

Latest posts by Ella Pelosi (see all)