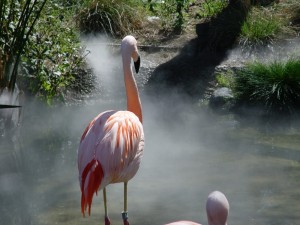 Keep Animals Cool with a High-Pressure Misting System
Spring is right around the corner, so you know what that means: things are warming up! How are you and your business preparing to beat the heat this year?
If your business operates outdoors, the warmer weather could be a dangerous factor in keeping your employees cool and productive. However, as temperatures begin to rise, keep in mind that humans aren't the only thing that get overheated in warm weather.
If you're an animal caretaker, your business depends on the comfort of the animals you care for since it can have adverse effects on their health. Horses for instance are better at keeping themselves warm than cooling themselves off. Cows may begin producing less milk and other mammals may become more irritable in extreme weather conditions.
The bottom line is that noticing the effects of the heat, and working to minimize these effects will help both you and your animals remain happy and healthy. The general rule of thumb when it comes to the heat is this: If it's too hot for people, it's too hot for animals.
When exposed to abnormally high temperatures animals can show the following symptoms:
Change in feeding patterns
Panting, or rapid shallow breathing
Increased respiration rates
Reduced feed intake and increased water intake
Negative energy balance
To help avoid the onset of these symptoms, it's important to create a comfortable and cool environment for your animals. The best way to do this is through the use of a high-pressure misting system.
Animal Misting Systems
Misting systems from Koolfog are the most effective cooling instruments for many different environments. Although they're most commonly found in restaurants and theme parks, a variety of different animal related industries employ the use of misting systems. Some industries that use animal misting systems include:
The benefits of using high-pressure animal misting systems in these environments are unparalleled in effect when compared to other cooling methods. They help to ensure that the animal can continue to regulate their body temperature appropriately while also maintaining stability in their levels of output.
In preparation for the eminent heat, now is the time to install a state of the art high-pressure misting system in your animal enclosures. If you're looking for a customized design to fit your exact cooling needs, then contact the misting experts at Koolfog to get started. With more than 30 years of experiencing designing and implementing misting systems, we'll work with you to create a system that enhances your environment for years to come.

Latest posts by Bryan Roe
(see all)