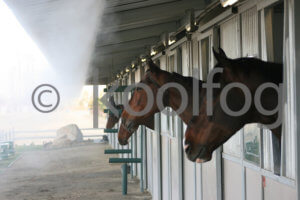 Heat stress is as dangerous to horses as it is to humans. Until now, horse owners have struggled with ways to keep their horses cool, comfortable and healthy during the hot summer months. Stablecool, Koolfog's new line of equestrian cooling products, utilizes the power of evaporative cooling to reduce temperatures in barns, stables and corrals. Stablecool solutions range from systems tailored to individual stalls to systems designed to accommodate large commercial equestrian facilities.

Founder and President
at
Koolfog
Bryan has been working on the forefront of technology for his entire professional career. Slightly obsessed with strategy and development, his drive and focus catalyzes the best ideas into reality. With a constant eye on technology development while advancing thoughtful business models that deliver, Bryan offers exceptionally effective and efficient cooling technologies that provide enhanced comfort and enjoyment for people, plants and animals.

Latest posts by Bryan Roe (see all)