As an industry leader in fog creation, and one of the very few that specializes in the use of fog for visual effects, Koolfog's President, Bryan Roe has become a go-to figure for fog resource, application and information. Bryan worked with author Alexandre Lange to provide historical insight as well as specific technical knowledge highlighting fog effects for fountains, landscapes, interactive water features and artistic sculptural interpretations. In her article, "In a Warming World, Consider the Mist Garden", Lange offers the perspective that mist gardens and fogscapes "could have a future as a more sustainable and accessible option for keeping hotter cities cool", further siting "Companies like Koolfog already offer products that run the gamut from patio misters, to the misting tents seen at amusement parks, to a playable "Cloud Arbor" outside the Children's Museum of Pittsburgh." (Read More)
"Cloud Arbor" is a prominent public art water feature showcased at Buhl Community Park in Pittsburg, Pennsylvania where people interact with "clouds". A realization of artist Ned Kahn's unique vision, "Cloud Arbor" is comprised of 64 stainless steel poles rising 32ft above the ground housing over 500 fog nozzles. Set at an angle to create a natural air current and managed by automated controls, it cycles the creation of an immersive fog effect with spherical clouds. Koolfog worked with a talented team of landscape architects, designers, and engineers to develop a fog system that transforms its shape with differing weather conditions.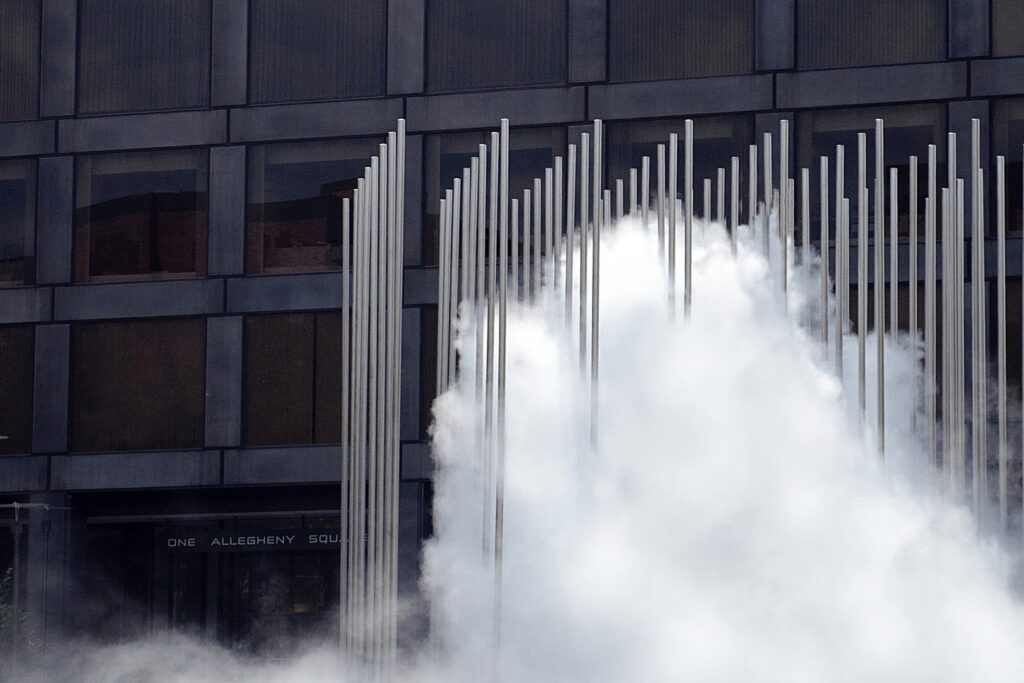 For 35 years Koolfog Inc. has designed, developed and manufactured mist and fog solutions for cooling, humidification, dust control, water features and special effects. Koolfog is a world leader in delivering the best in quality high-pressure fog systems that balance performance and aesthetics while seamlessly integrating mist and fog into restaurants, resort hotels, industrial facilities, wineries, greenhouse crops, landscapes, architectural settings and theme parks. Recently, Koolfog was recognized as a credited vendor for the award-winning team responsible for producing Universal Creative's vision, Hagrid's Magical Creatures Motorbike Adventure™ at the Wizarding World of Harry Potter ™ at Universal Orlando Resort ™.
Koolfog's team works with noted architects, landscape designers, artists, engineers, creative producers, and production houses to incorporate fog into their international projects due to its effectiveness in providing a visual effect that can be purposed as an experiential element that sustainably cools while entertaining. Koolfog has found that some of its fountain design partners prefer the "drier" aspect of fog vs. water jets because fog as a visual effect benefits fountains by offering enhanced visual depth that can capture lighting to produce different experiences. Robert Mikula, OALA, CSLA, ASLA; Director of Creative Design & Landscape Architect, Crystal Fountains explains, "We, as fountain specialist designers are always looking for the minutia of the fountain, but if you watch how people interact with water there is such an appreciation of its sheer magic. Kids jumping up and down on a scrim feature or splashing in a fountain while adults close their eyes to breathe in the surrounding clean air or wave their hands in the air to capture a fog cloud…fountains are definitely good for the soul."
Fog also offers interactive opportunities when integrated with automated programs that can release fog at various intervals. For example, Koolfog has been credited for its collaborative efforts in incorporating fog into Janet Echelman's "Pulse" exhibit in the award-winning Dilworth Park Project recognized by the American Society of Landscape Architects (ASLA).   The sculptural water feature at the heart of Dilworth Park, Philadelphia is a permanently installed public work of art that compliments the landscape environment while attracting visitors to its vibrant center. Aptly named Pulse, artist Janet Echelman's exhibit was inspired by the history of the location and its association with water and transportation.  Surrounded by a beautiful lawn area, grove seating and an adjacent café, the 11,600 square foot fountain features mist and colored lighting to represent the city's transportation system and express its rhythm.
Pulse is a multi-sensory experience that showcases an interactive scrim fountain programmed to release clouds of fog in a programmed sequence that coordinates with the site's transit lines. Using cutting-edge techniques to deliver atomized water particles within a linear air curtain, the fog effect releases approximately three feet of mist in a pattern that moves along a grated pathway illuminating train arrivals and departures.
Koolfog teamed with Studio Echelman, Center City District commission, CMS Collaborative, Arup Lighting and 1212 Studio to bring Pulse to life. According to Echelman's website, Pulse utilizes a high-pressure misting system … that creates an ultra-fine, fog-like, cool mist that quickly evaporates. The ephemeral mist is made of filtered, softened water onto which lighting is projected so it is completely safe for children to play in. Described by the artist as "a living X-ray of the city's circulatory system," the vibrantly colored mist curtains move across the fountain and mirror the footprint of the trains below, evoking the steam rising from the city's first water pumping station that was located on the site at the beginning of the 19th century, as well as the steam from the trains at the Pennsylvania Railroad Station that were across the street."
Fog invites people to imagine, meditate, and interact, by enveloping them in an authentic multi-sensory experience.   Lange captures the essence of this concept in her article simply surmising, "As Nakaya (famed fog sculpture artist, Fajiko Nakaya) realized early on, fog may be small, but its effect is big." Click here to read Lange's complete article.

Latest posts by Michelle Roe
(see all)