Misting Systems for Stables
Animal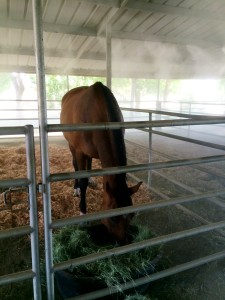 comfort and health are an owner's top priority. Whether you're an owner of livestock or horses, the need to keep all animals healthy and safe is something you work towards every day. So, keeping your animals cool during the summer months is no different. With the impending heat of summer right around the corner, now is the time to start preparing both your animals and your enclosures for the months to come.
Since horses, and other animals, are kept outdoors in enclosed or semi-enclosed barns or stables, preparation for the summer should begin in these areas. Typically, these types of enclosures attract heat which causes the storage of higher temperatures and usually leads to the enclosure being hotter than it is outside. Horses exposed to this type of heat could be in danger of experiencing heat stress and a reduced ability to sweat and cool down. This may lead to stroke.
The Importance of Regulating Stable Temperatures
Equestrian center misting systems are a highly effective way to regulate stable temperatures. These high-pressure misting systems, designed by misting experts at Koolfog, can effectively cool the surrounding area up to 30 degrees. This not only helps horses regulate their body temperature, but it also reduces the number of flies within the stable, while not wetting hay or horse feed.
Creating this type of regulated environment for horses is important for several different reasons. The most important is that horses are better at keeping themselves warm than they are at cooling themselves off. Additionally, horses utilize more than half of their energy to move. So, placing a horse that has been exercising outdoors into a hot enclosed area can cause them to suffer from physical exhaustion or even worse, a stroke. However, having a stable that is equipped with equestrian center misting systems reduces the chances of this happening.
Overall, the ability to lower and maintain your horses' body temperature with a high-pressure misting system is the most effective way to avoid the dangers of heat stroke and physical exhaustion. It also keeps your horse comfortable on even the hottest days and will ensure the continued use of your equestrian center throughout the upcoming summer months.
Equestrian Center Misting from Koolfog
If you've yet to install a state of the art high-pressure misting system within your stable or at your equestrian center, then the misting systems experts at Koolfog can help. Our engineers can customize and design an equestrian center misting system that meets all your cooling needs. We'll work with you from start to finish to ensure that the set-up and installation of the system run smoothly. We will even help you to maintain the system over the years, as we offer technical support year-round. Take a look at some of our misting products, and contact us when you're ready to start the design and installation process.

Latest posts by Bryan Roe
(see all)