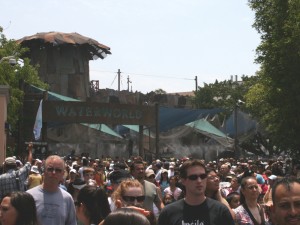 Many families excitedly look forward to visiting a theme park during vacation time, but most also dread that the most convenient times are during the heat of the summer. It's inevitable that visitors will wait in long lines, walk around most of the day in direct sunlight, and there are never enough tables in the shade when they're ready to eat. Luckily, Koolfog has developed a variety of misting systems and fog effects to provide cooling solutions at theme parks. Keeping visitors cool keeps visitors coming back.
Cool Beginnings
Keeping visitors comfortable has become a priority for many amusement and theme parks, and some have installed misting systems at entrances to welcome and draw guests in. At the park in the photo on the right below, Koolfog installed misters throughout the trees of the entrance area, creating a more pleasant beginning to the visit as families and friends wait while tickets are purchased.
Don't Wither While You Wait
Long lines are ubiquitous to theme parks, but parks are integrating outdoor cooling solutions to make the wait more bearable. In some instances, the misting or fog effects add to the theme of the attraction, creating a more immersive experience as guests enter the ride.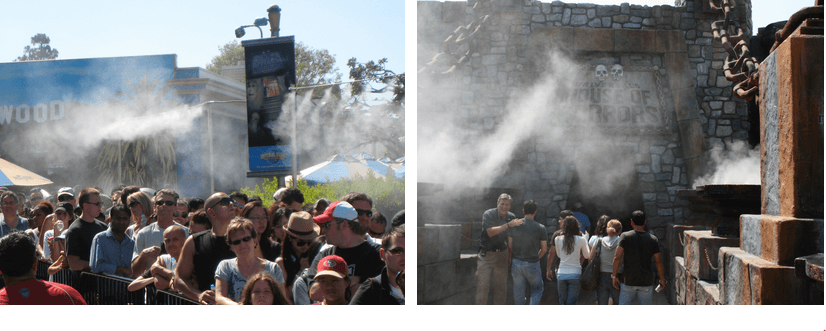 A Walk in the Park
While waiting areas are an obvious, concentrated space to help keep patrons cooler and happier, much of the day at a theme park is spent walking from place to place. Koolfog has partnered with parks to design and install a range of custom misting solutions to provide relief in various areas. Billowing mist from shops and other buildings along walkways can make a big difference. From above or below, Koolfog can accommodate any space.

Eat, Drink and Stay Cool
Even diehard park enthusiasts need to eat and rest. There never seems to be quite enough shade, but cooling misters can significantly reduce ambient temperatures. Another option is Koolfog misting fans, which provide an effective combination of misting and air creating a direct cooling effect. Similar fans have been seen on the sidelines of professional sporting events, so you can be sure that they will keep park visitors cool too.

With exciting thrills and attractions, people will always want to visit theme parks. However, if the experience turns out to be miserable and uncomfortable, it becomes less appealing for them to return. Koolfog provides effective cooling solutions at theme parks, helping visitors to stay longer and want to come back more often. Innovative parks are partnering with Koolfog to incorporate custom misting systems and fog effects throughout the park, creating more comfortable areas for ticket sales, dining, and resting, and more. Guests remember the thrills (and maybe the chills?), and look forward to their return visit.

Latest posts by Bryan Roe
(see all)