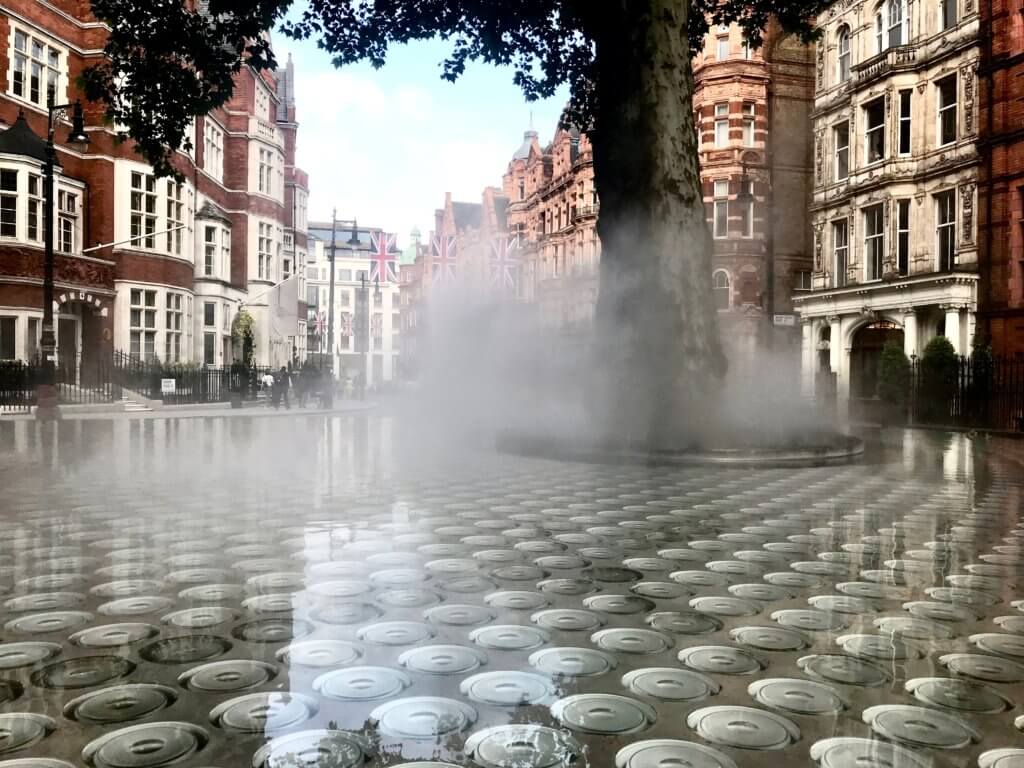 The water feature "Silence", designed by famed landscape architect Tadao Ando, is a beautiful in study in elemental movement as well as the impact of bringing different essences of nature into metropolitan public space.
Seated outside the Connaught Hotel in Mayfair, London, England, a circular pond envelops two large trees elevated above the granite-edged pool as water gently falls over the precipice and vanishes beneath the stone foundation. In contrast to the pool's stillness when stationary, clouds of mist are activated to rise and meet the trees. This visually calming fountain fog effect evokes a feeling of simplicity in an oasis that provides a welcome distraction from the streets' high traffic area.
Completed in 2011, this beautiful water installation was commissioned as part of a street improvement and community enhancement project. Koolfog worked alongside UK architects Blair Associates and water feature engineering firm Oak CWE to provide design assistance and supply for the introduction of the programmed fountain fog effects. Every fifteen minutes, atomizers, artfully hidden at the base of the trees release water vapor into the environment at 15 second intervals. Glass discs below the water's surface illuminate the evening atmosphere with LED lights. As daytime transitions to night the glow further attracts people to the venue as an attraction for visitors to share in a truly enchanting experience.
https://www.the-connaught.co.uk/about-the-hotel/

Founder and President
at
Koolfog
Bryan has been working on the forefront of technology for his entire professional career. Slightly obsessed with strategy and development, his drive and focus catalyzes the best ideas into reality. With a constant eye on technology development while advancing thoughtful business models that deliver, Bryan offers exceptionally effective and efficient cooling technologies that provide enhanced comfort and enjoyment for people, plants and animals.

Latest posts by Bryan Roe (see all)