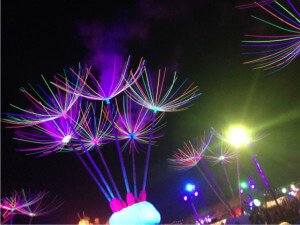 Koolfog recently had the privilege of working with California Central Coast based company, SpinCycle, to produce a fantastic immersive art installation titled, "Dandelion Forest" for the 2015 Spring/Summer music festival circuit.
This unique custom art structure debuted at both the Electronic Daisy Carnival (EDC) in Las Vegas as well as Beyond Wonderland SoCal Festival where it made a splash amidst the magical Alice and Wonderland themed affair crafted for festival goers to dance and share their passion for music.
Like a scene out of a Dr. Seuss book, SpinCycle envisioned the Dandelion Forest as a dreamscape of dandelion flower pods glowing against the darkness of night and twinkling in neon splendor. Koolfog collaborated with the dynamic creative at SpinCylce to help create a dynamic experience with special visual fog effects that dueled as an interactive, visual enhancement as well as cooling during the summer circuit.
The concept immediately became a popular attraction for EDC music fans to float to the notes while grooving to the universal sounds of techno beats. The vibe at this rave style event gave off a lot of energy as well as presented a futuristic vibe with a progressive carnival theme including performers, rides, and a mix of headliners allowing guests to wander and wonder at the landscape filled with fire-breathing metal creatures, LED-infused gardens, and staged with names such as kineticFIELD, cosmicMEADOW, neonGarden. Dandelion Forest fit in perfectly with EDC's promotion of a bridge between technology, nature and humans by incorporating the use of natures elements: fire, air, earth, and water materials with the advanced technical implementation of special effects to attract a space for fans to congregate, cool off, relax, and enjoy.
Dandelion Forest was met with success at both festivals to the delight of Koolfog, SpinCycle, production, event designers as well as amazed fans.

Latest posts by Bryan Roe
(see all)