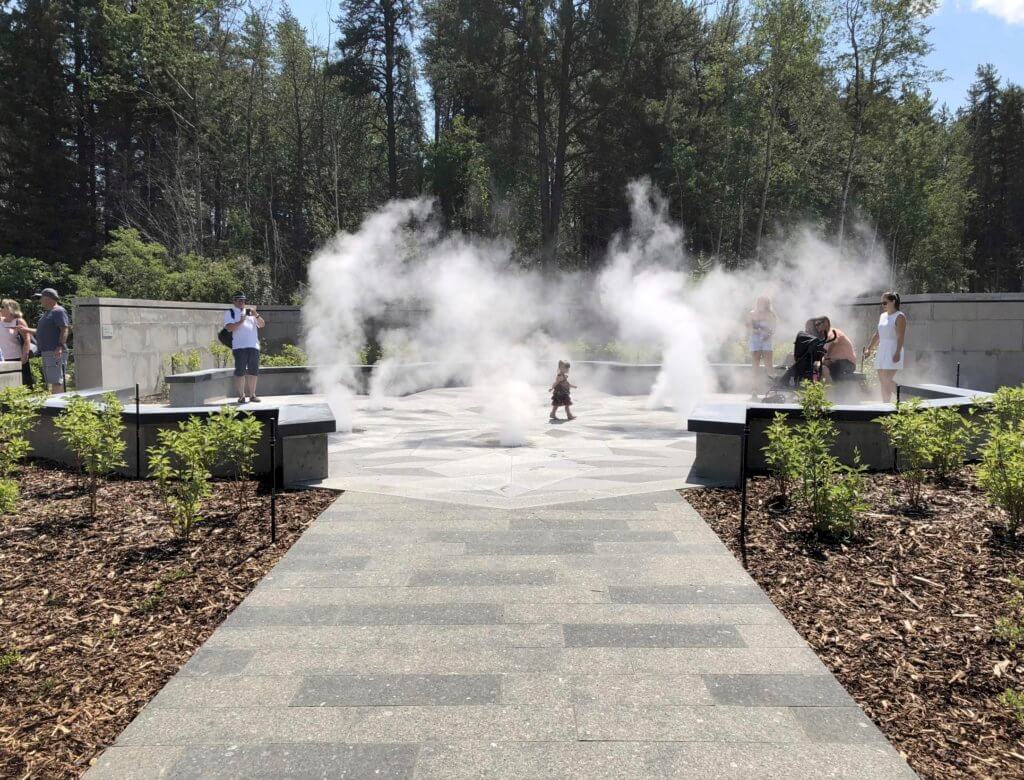 Designed by Nathan Foley of the renowned landscape architectural firm Nelson Byrd Woltz, the Jardin Aga Khan (Aga Kahn Garden) is an 11-acre contemplative parkland setting at University of Alberta's Botanical Garden. This immaculate outdoor treasure offers a contemporary interpretation of Islamic landscape architecture infused with natural elements.
The Jardin Aga Khan is influenced by geometric concepts, water, light and shadow featuring a foliage collection of over 25,000 trees, shrubs, flowers, and wetland plants selected for their ability to weather Canada's northern climate temperatures. Fruit orchards compliment the beauty and fragrance of the landscape as guests meander around intricate forest paths, granite and limestone terraces, a large Calla Pond, reflective still pools, and waterfalls.
Koolfog worked with CMS Collaborative on the fountain design which houses 6 custom fog manifolds placed under diamond shaped gratings. The fog effect, essentially finely atomized water mist, fills the "Ice Chubtra", an intentional raised platform. The water mist rises from beneath the grating to create an ethereal interactive visual effect that allows visitors to enjoy a stunning sensory experience.
The lovely Jardin Aga Khan has been conceived as a serene space to further intellectual, educational and cultural understanding as a gift from His Highness the Aga Kahn in collaboration with the University of Alberta and the Aga Khan Development Network.

Founder and President
at
Koolfog
Bryan has been working on the forefront of technology for his entire professional career. Slightly obsessed with strategy and development, his drive and focus catalyzes the best ideas into reality. With a constant eye on technology development while advancing thoughtful business models that deliver, Bryan offers exceptionally effective and efficient cooling technologies that provide enhanced comfort and enjoyment for people, plants and animals.

Latest posts by Bryan Roe (see all)