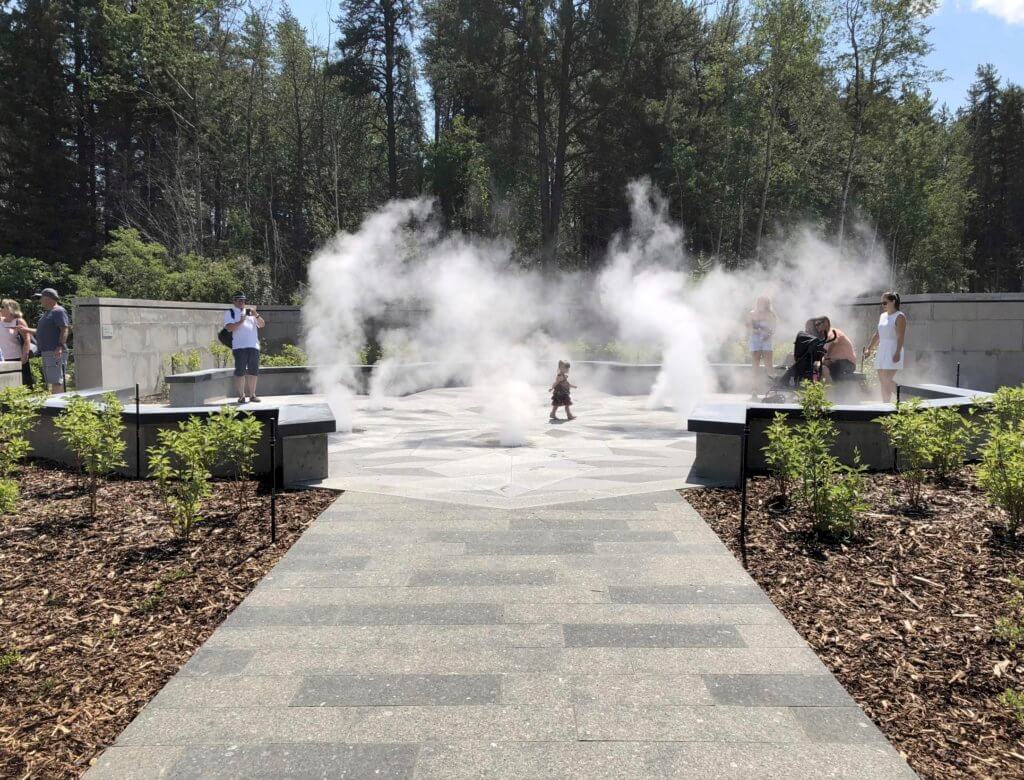 The Jardin Aga Khan (Aga Kahn Garden) is an 11-acre contemplative parkland setting at University of Alberta's Botanical Garden. This immaculate outdoor treasure offers a contemporary interpretation of Islamic landscape architecture infused with natural elements.
The Jardin Aga Khan is influenced by geometric concepts, water, light and shadow featuring a foliage collection of over 25,000 trees, shrubs, flowers, and wetland plants selected for their ability to weather Canada's northern climate temperatures. Fruit orchards compliment the beauty and fragrance of the landscape as guests meander around intricate forest paths, granite and limestone terraces, a large Calla Pond, reflective still pools, and waterfalls.
This breathtaking garden was designed in collaboration with water feature designer, CMS Collaborative of Santa Cruz, California, and implemented by Soucy Aquatik of Quebec, Canada. The fountain design produced six custom fog manifolds placed underneath the custom diamond shaped grating and brought together using a network of high-pressure distribution lines. Driving the ensemble is the Koolfog Atacama A5.0VFD series high-pressure fog pump.  The Atacama A5.0VFD fog pump allows the operation controls to change output pressure based on time of day, season or general show parameters. The water is stripped of mineral content and purified using a reverse osmosis system with UV filter.  The resulting fog effect, essentially finely atomized water mist, fills the "Ice Chubtra", an intentional raised platform. The water mist rises from beneath the grating to create an ethereal interactive visual effect that allows visitors to enjoy a stunning sensory experience.
The lovely Jardin Aga Khan has been conceived as a serene space to further intellectual, educational and cultural understanding as a gift from His Highness the Aga Kahn in association with the University of Alberta and the Aga Khan Development Network. Open in 2018, this marvelous landscape is said to intertwine nature's harmony, water effects, and symmetric science to "uplift the human spirit".

Latest posts by Michelle Roe
(see all)