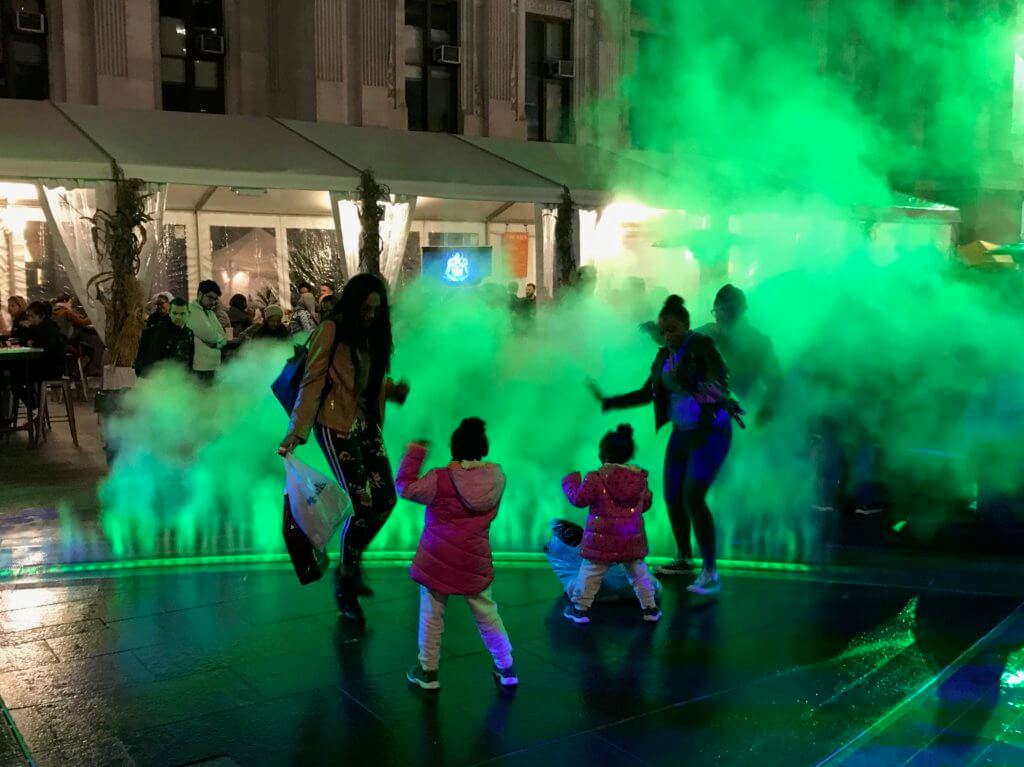 The sculptural water feature at the heart of Dilworth Park, Philadelphia is a permanently installed public work of art that compliments the landscape environment while attracting visitors to its vibrant center. Aptly named Pulse, artist Janet Echelman's exhibit was inspired by the history of the location and its association with water and transportation. Surrounded by a beautiful lawn area, grove seating and an adjacent café, the 11,600 square foot fountain features mist and colored lighting to represent the city's transportation system and express its rhythm.
Pulse is a multi-sensory experience that showcases an interactive scrim fountain programmed to release clouds of fog in a programmed sequence that coordinates with the site's transit lines. Using cutting-edge techniques to deliver atomized water particles within a linear air curtain, the fog effect releases approximately three feet of mist in a pattern that moves along a grated pathway illuminating train arrivals and departures.
Koolfog teamed with Echelman, Center City District commission, CMS Collaborative, Arup Lighting and 1212 Studio to bring Pulse to life. According to Echelman's website, Pulse utilizes a high-pressure misting system … that create an ultra-fine, fog-like, cool mist that quickly evaporates. The ephemeral mist is made of filtered, softened water onto which lighting is projected so it is completely safe for children to play in. Described by the artist as "a living X-ray of the city's circulatory system," the vibrantly colored mist curtains move across the fountain and mirror the footprint of the trains below, evoking the steam rising from the city's first water pumping station that was located on the site at the beginning of the 19th century, as well as the steam from the trains at the Pennsylvania Railroad Station that were across the street." (echelman.com)

Founder and President
at
Koolfog
Bryan has been working on the forefront of technology for his entire professional career. Slightly obsessed with strategy and development, his drive and focus catalyzes the best ideas into reality. With a constant eye on technology development while advancing thoughtful business models that deliver, Bryan offers exceptionally effective and efficient cooling technologies that provide enhanced comfort and enjoyment for people, plants and animals.

Latest posts by Bryan Roe (see all)