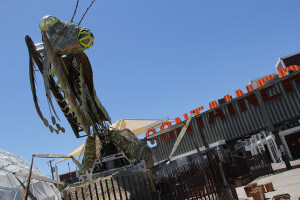 Taking the kids to Vegas? For a kid, what's not to love? The whole town is lit up like a fairy-tale video game. Flashing lights, the hustle and bustle of crowds, larger than life attractions. Walking down the strip becomes a delightful pinball type of adventure through a maze of bursting volcanoes, shark tanks, and magical singing fountains. Vegas is a visual feast for the eyes with stunning exhibits and a virtual trip to some of the world's most interesting destination sites … "New York", "Paris", "Venice"!! And don't forget, the endless opportunities to indulge in fanciful food fare and the sweetest treats. Can we say M&M Store five times!! Bright lights, Big City. It's Vegas and it's a sensory smorgasbord with something ready to entertain all ages.
But for one of our favorites, head to the Downtown Container Park, located on Fremont Street in the heart of downtown Las Vegas. You won't miss the thrill and excitement of the live entertainment and stimulation found on the main strip…but you & your brood can enjoy being together under blue skies while getting their wiggles out.
The Downtown Container Park is a unique dining, boutique shopping and open-air mart complete with an interactive playground. The architecture of the outdoor play area combines and encourages motion and fitness games while different up-cycled materials, innovative textures, and bright colors designed with elaborate detail to engage visitors in an integrated environment. Features such as a 33' foot tall winding slide work wind around a multi-level Treehouse and a NEOS play system encourages motion and fitness games as a giant praying mantis sculpture looks on.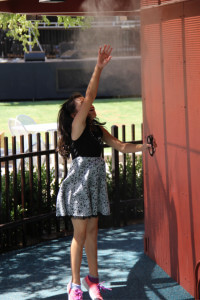 Koolfog has a long history in providing amusement and theme park applications that enrich guest experiences by engaging the senses and adding to the outdoor ambiance. Koolfog's client, Cre8Play who designed the play structures in Downtown Container Park, implemented misting effects for both a visual recognition (It's a neat thing to see!) as well as a cooling component. The park has plenty of secret places to run, explore new paths, and climb so it does get hot out there. The installation of integrated outdoor mist systems into the container façade allows both kids and adults to relax and delight in activities in comfort.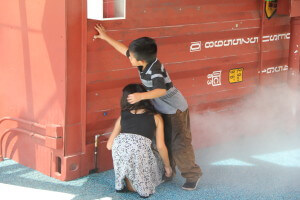 This particular park provides a bit of an oasis and an immersive atmosphere. The look and feel of a light mist gently cascading from the top of a play structure or the approach of a rolling thicker fog is a fun enhancement to make imaginations go wild.

Founder and President
at
Koolfog
Bryan has been working on the forefront of technology for his entire professional career. Slightly obsessed with strategy and development, his drive and focus catalyzes the best ideas into reality. With a constant eye on technology development while advancing thoughtful business models that deliver, Bryan offers exceptionally effective and efficient cooling technologies that provide enhanced comfort and enjoyment for people, plants and animals.

Latest posts by Bryan Roe (see all)