Problem: There's no way to control dust. Airborne dust particles are having a negative effect on workplace health conditions, an adverse effect on machinery and equipment, and are significantly decreasing production efficiency. 
Solution: The most efficient and economical way to minimize these potentially disastrous effects of dust is through a high-pressure dust suppression misting system.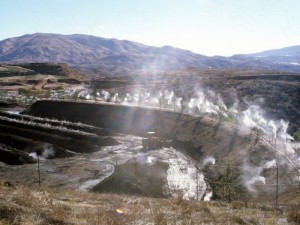 Why leave your work site dusty and potentially hazardous when you can effectively remove .1-1000 micron of breathable dust particles with a high-pressure misting system?
Dust suppression misting systems are the most effective in high dust environments because they effectively suppress dust without wetting materials, equipment or facilities. When water is atomized by a high-power misting system in a dusty environment, the dry particles of dust are absorbed by the micro-water droplets causing them to increase in weight and bond to create cohesiveness. This weight then causes the dust particles to settle out of the air to return to the ground. Not only will the dust be suppressed, but the air will also be cleaned while the industrial environment is cooled at the same time.
Koolfog dust control misting systems are custom-designed and engineered to meet the needs of any industrial application to assure the continuous compliance with existing health regulations and to maintain maximum efficiency. Specifically, the high-pressure misting systems designed by the misting experts at Koolfog provide an effective solution to control dust resulting from the following:
Mining and Quarry Industries
Recycling Facilities
Land and Construction Development
Lumber and Grain Processing Facilities
Conveyor Belt Drop Points
Fiberglass Production
Cutting, Grinding and Sanding Facilities
Water Transfer Plants
Paper Mill Facilities
Waste Transfer Facilities
Every dust suppression misting system is customized and designed for your specific needs and all our materials have been tested under the harshest environments. Unlike other dust control systems that often create high costs and require frequent upgrades, the high-pressure misting systems at Koolfog are designed to last up to 15 years with proper maintenance and all our high-pressure pumps come with a 30-year warranty. Plus, you'll always have access to our team of misting system technicians to ensure that dust remains a thing in the past at your job site. Dust control problem: solved.

Latest posts by Bryan Roe
(see all)